Logicbroker can now create the optimal prospect profile to further enhance its customer acquisition strategy as a consequence of our Master's student team's work.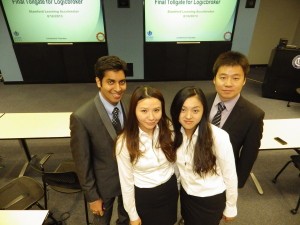 Using its suite of digital marketing analytics tools, the company can test product offers, pricing scenarios and direct its marketing efforts and social media content against the most qualified prospects for maximum return and efficiency. Logicbroker is a fast-growing Connecticut company which produces cloud-based software for both online retailers and suppliers. Logicbroker's clients include GE, MakerBot, the 3D Printing Company, Office Depot, Pitney Bowes and Lenmar. The project was sponsored by the Connecticut Center for Entrepreneurship and Innovation (CCEI) in East Hartford.
The team, Fei Xia '14 MBA, Yan Li '13 MSFRM, Amey Nirpase '13 MSBAPM, and Nai-Ling Hsiu '14 MBA, built a customized database which can be filtered by type of business (retailer or supplier), company location, revenue, and shopping cart a prospect company might be using. As part of their research, over 7,500 retailers and suppliers provided information including: number of product SKUs, number of orders processed per month, dollar spend on system upgrades, integration partners being used, and features they prefer in their integration software providers.
LogicBroker had praise for the team's work: "Their research has been absolutely beneficial. Market research like this lets us clearly identify market potential. We can go after customer groups and we can put the data behind it, which is important," said George Heudorfer, director of sales. "The distilled market data the team created shed light on our most promising market opportunities, such as pet supplies, with metrics that closely profile Logicbroker's existing clients," added Peyman Zamani '95 (ENG), '06 MBA, the company's CEO.
Pictured (left to right): Amey Nirpase, Nai-Ling Hsiu, Fei Xia, and Yan Li