Stamford, Conn. – Only two scholarships awarded annually by the Public Risk Management Assoc.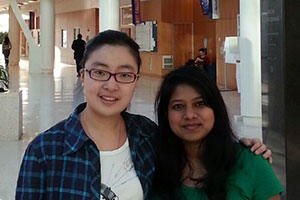 Each year, the national Public Risk Management Association (PRIMA) awards just two scholarships to students enrolled in public policy and public administration programs. For 2014, both scholarship recipients are from UConn's MS in Financial Risk Management program.
Xinyue Li and Debolina Das, both enrolled in Stamford, were selected for the annual PRIMA Student Scholarship awards for their outstanding academic performance.
"These scholarships not only recognize our students' academic strengths and their strong commitment to risk management, but also confirm the quality of our MSFRM program," said Jud Saviskas, executive director of the UConn School of Business in Stamford. "We are very proud of these two students, and they are a shining reflection of our fine program."
Based in Alexandria, VA, PRIMA exists to promote and advance the profession of public risk, and serves as the primary resource for public risk management educational programs, products and services.
The PRIMA student scholarship covers expenses related to their attendance at PRIMA's 35th Annual Conference, June 9-11 2014, in Long Beach, California. These expenses include the conference registration, meals, hotel accommodations, and both air and ground transportation.
As a student scholar, each will be paired with a mentor—a PRIMA member who is an experienced risk manager. The mentor will help the students network, gain industry knowledge, and expose them to other learning opportunities before, during, and after the 2014 Annual Conference. The winners will also receive a complimentary one-year student membership in PRIMA.
"Our FRM program has grown nearly five times in the last three years, attracting outstanding students from abroad, and earning the support and recognition from major corporations in the northeast," added Professor Chinmoy Ghosh, head of the Finance Department and director of the MSFRM program. "These competitive scholarships recognize the academic excellence of our students and highlight our focus and emphasis on research initiatives in Risk Management."
Pictured: Xinyue Li and Debolina Das, recipients of the 2014 PRIMA Student Scholarship awards