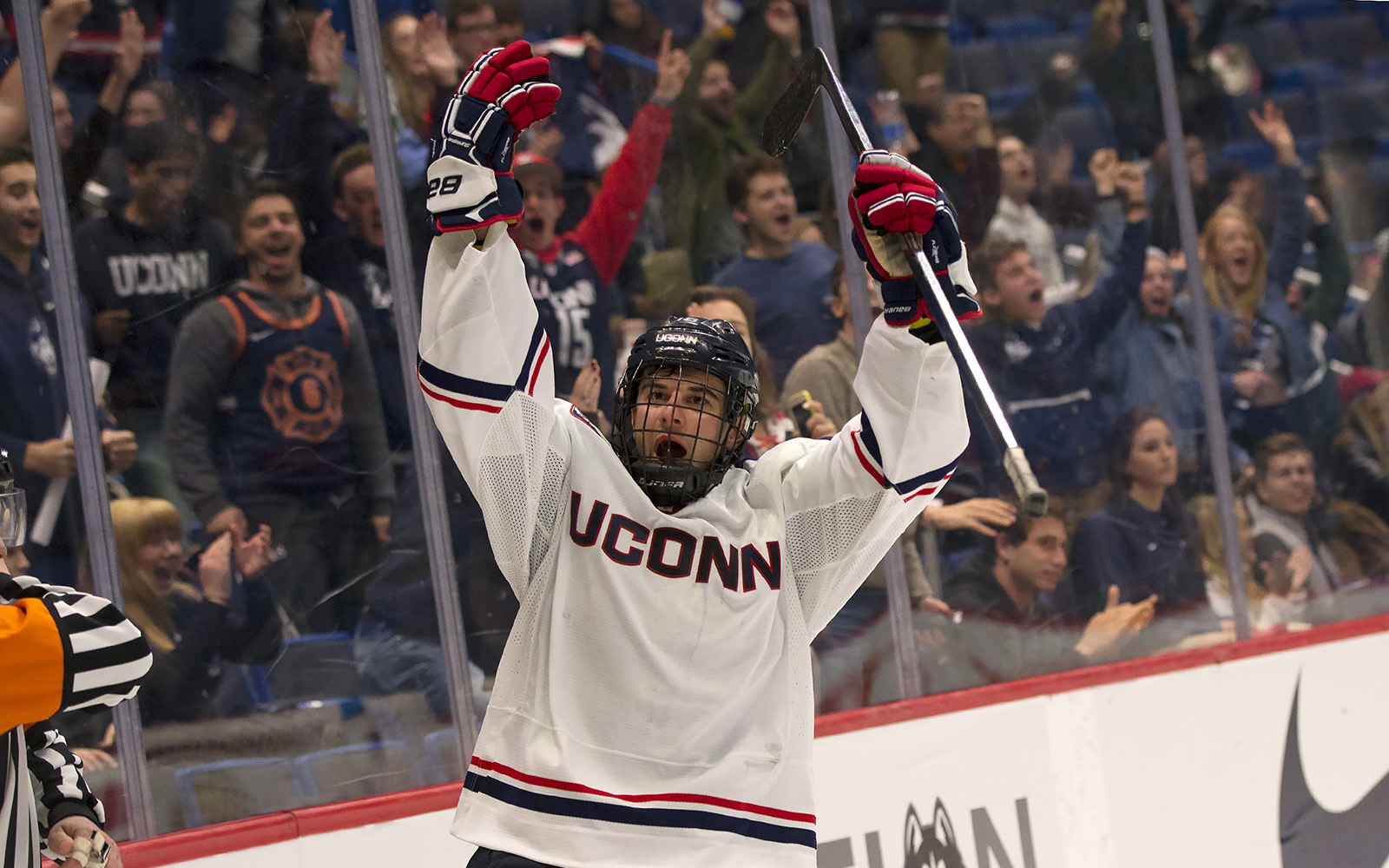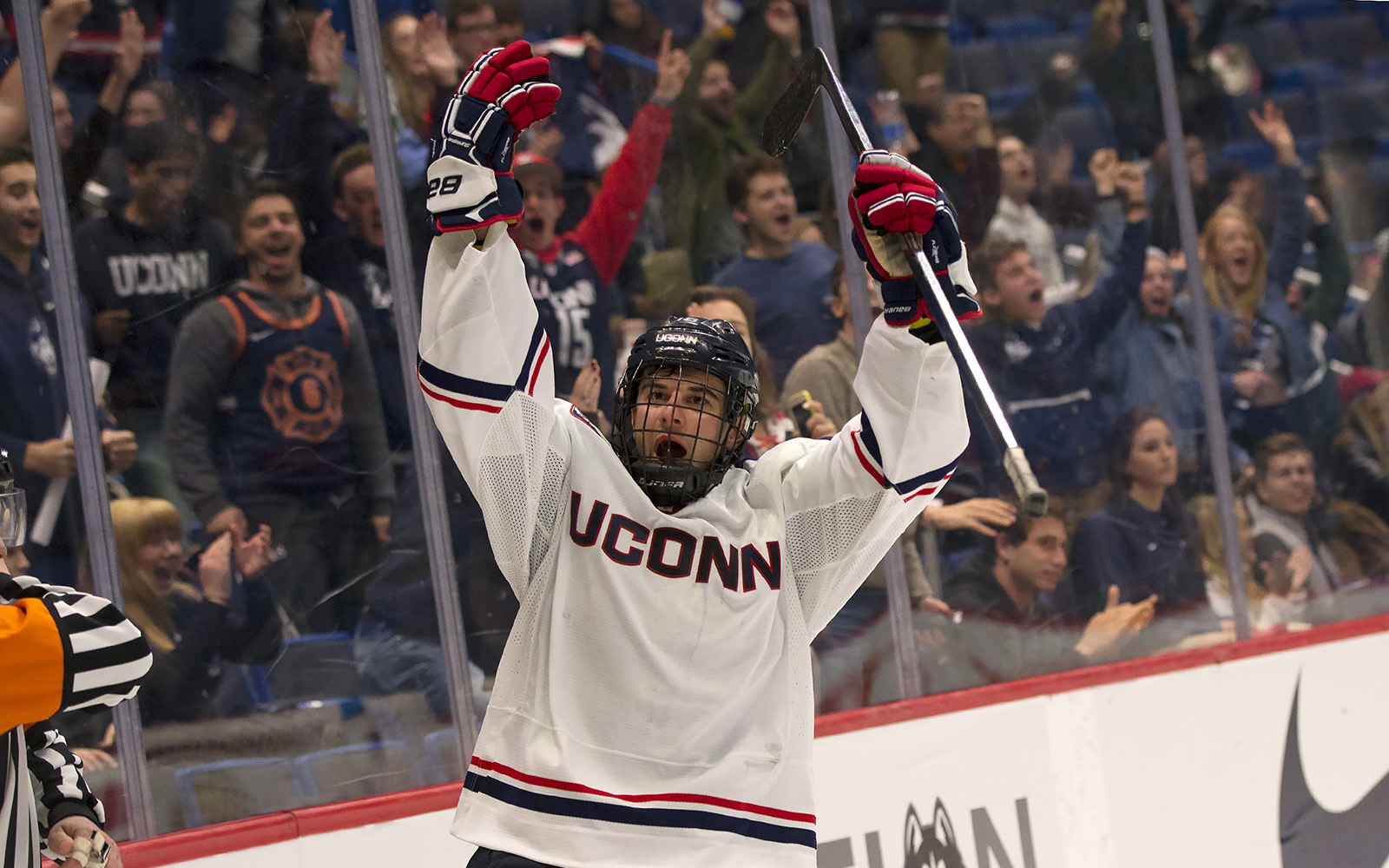 One of the most embarrassing things that has happened to Karl El-Mir, a senior in the School of Business and a forward on the UConn Men's Hockey Team, is stepping on a hockey puck and taking a fall during warm-ups.Continue Reading
Experiential Learning Pressroom
Connecticut by the Numbers
November 6, 2018
Upcoming Events
Wednesday, November 21st, 2018
05:30 PM - 06:30 PM
Waterbury CampusRoom 230, 99 East Main Street, Waterbury, CT 06702
Register at: http://s.uconn.edu/2lp

Part-time MBA Program
Infosessions at our Waterbury campus present information on the Part-time MBA Program. Check out the following quick links to learn more before coming to an event.
Academics Overview
Curriculum
Fees & Financial Assistance
GMAT/GRE Strategy Sessions
Occasionally, the Waterbury infosessions may include a special GMAT/GRE Strategy Session. These sessions will cover the following topics:
History and Importance of the GMAT/GRE
Testing Details/Content
Intro to Techniques/Sample Questions
How The Princeton Review Can Help You Prepare for the GMAT/GRE
Saturday, November 24th, 2018
12:00 AM - 11:59 PM
OtherVarious
The Surety and Fidelity Industry Intern and Scholarship Program for Minority Students provides awards of up to $5,000 to outstanding minority students to support their studies in the areas of insurance/risk management, accounting, economics, or business/finance and to encourage their consideration of the surety industry and surety/fidelity underwriting as a career choice.

Application Deadline: November 23, 2018

https://diversity.business.uconn.edu/leadership/
Thursday, November 29th, 2018
09:00 AM - 10:00 AM
Storrs Campusna
The UConn Full-time MBA program is designed for professionals seeking both the short-term skills to succeed in a new functional role, and the long-term capability to effectively lead and manage the complexity of business organizations in a dynamic global environment.

Join us at a virtual infosession to learn more about our career-centric curriculum, admissions, 1-2-1 career development, and more!
Saturday, December 1st, 2018
12:00 AM - 11:59 PM
OtherVarious
Minority Access' National Diversity & Inclusion Internship Program
"Developing Tomorrow's Workforce"
The Minority Access National Internship Program is designed to allow talented undergraduate and graduate students experience the diversity and scope of career opportunities available in the federal government and other participating entities. The program provides students with the opportunity to merge academic theory with practical application in the workplace.

Students must submit the following information:
>> Minority Access National Diversity & Inclusion Internship Program On-line Application
>> Academic transcript-Unofficial (Official Transcript will be required upon selection)
>> Two letters of recommendation from faculty advisor or current instructor
>> Resume
>> 250 word essay describing reasons for wanting to participate in the Minority Access NDIIP program

http://www.minorityaccess.org/ndiip_app.html
Saturday, December 1st, 2018
12:00 AM - 11:59 PM
OtherOther
Explore Microsoft is a 12-week summer internship program specifically designed for students in their first or second year of a bachelor's degree program and provides the opportunity to experience the main phases of the product development cycle: Design, Build and Quality. This program is designed to encourage your interest in MEM, computer science, computer engineering, or a related technical discipline.

Must be freshman or sophomore student, currently enrolled in a bachelor's degree program within the United States, Canada or Mexico.
Demonstrated interest in majoring in computer science, computer engineering, software engineering or related technical major.
Completed an Introduction to Computer Science course (or equivalent class) as well as one semester of calculus (or equivalent) by the start of the program.
Demonstrated interest in the software industry.

All candidates who meet the above criteria may apply. We especially encourage applications from individuals currently underrepresented in engineering, including women, Native Americans, African Americans, Hispanics, Veterans and individuals with disabilities.

https://careers.microsoft.com/us/en/job/475698/Internship-Opportunities-for-Students-Explore-Microsoft-Internship-Program?rt=university
Media Contact
For all media inquiries, please contact:
Michael J. Deotte
Communications Director
+1 (860) 486-4478
mdeotte@business.uconn.edu
UConn faculty are available for live interviews from the campus television studio.