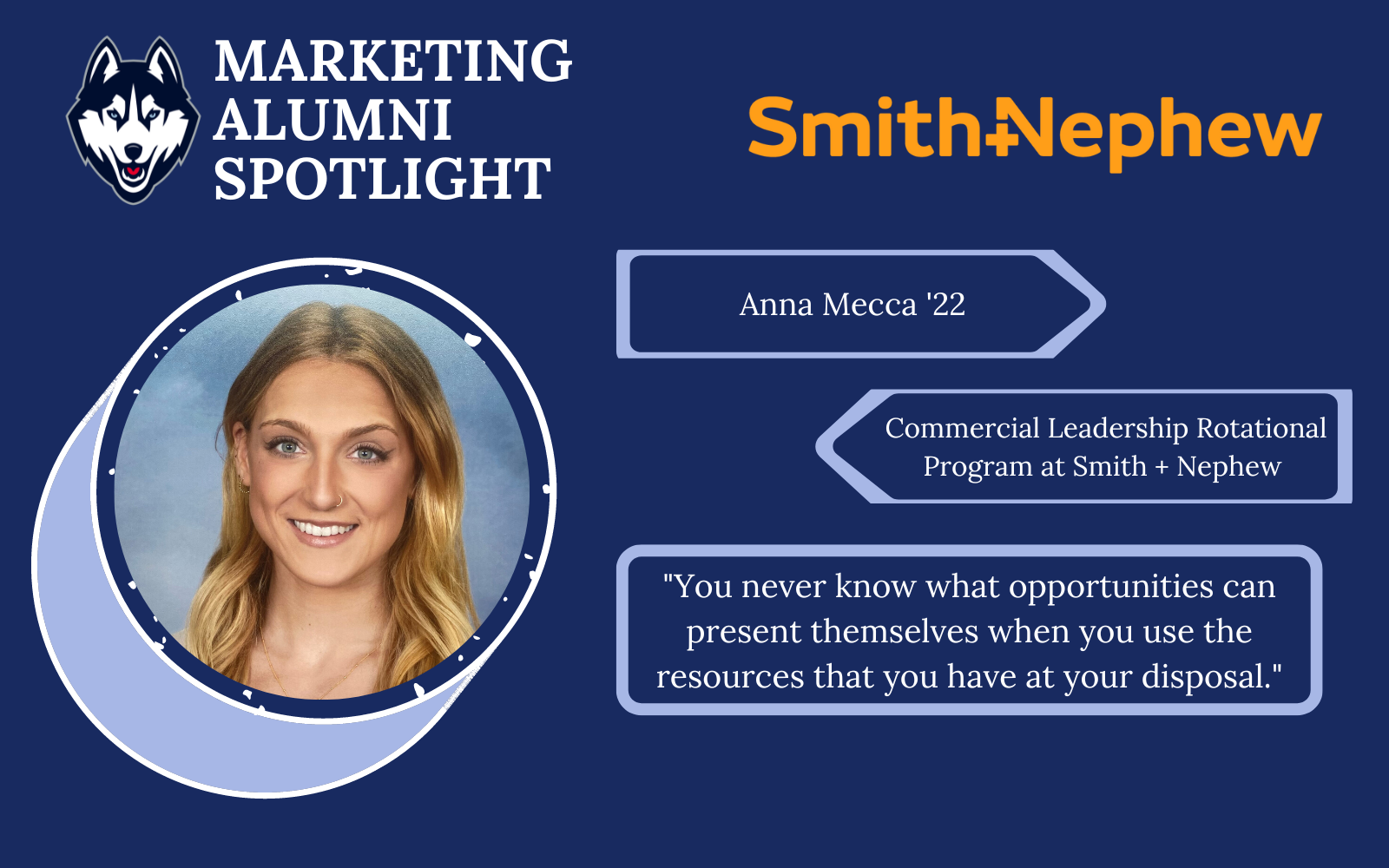 Anna Mecca graduated from UCONN in May of 2022 as a Marketing major with a concentration in Professional Sales Leadership. Shortly after graduation, Anna took a position to work for Smith+Nephew, a global medical technology company, as part of their Commercial Leadership Rotational Program in Advanced Wound Care Management. Anna knew she wanted to be in the med-tech space and was especially interested in a role that offered a leadership development program. Smith+Nephew provides a 2-2.5 year program that consists of completing rotations within both marketing and sales divisions of the company, ultimately setting candidates up for a Sales Associate position. Anna states, "These programs really teach you the in's and outs of a company, before accelerating to a more complex job role. This program in my eyes really teaches you how to first crawl, then walk, and eventually run!".
As an undergraduate, Anna was a member of the UCONN Women in Business organization and was also on the UCONN Women's Swim Team. Anna was among 15 female athletes nationwide to be selected to join the Women in Sports Foundation Mentorship Program. She was nominated by the UCONN Athletic Department, applied for the program, and was ultimately accepted. This enabled her to meet people within the sports world and get invaluable career guidance from professionals within the industry. Anna was very persistent in using the resources UCONN provides to their students. With that being said, UCONN partners with Parker Dewey, a micro internship platform that connects students and recent college graduates to employers. Here, company's upload small projects onto Parker Dewey and students are able to apply and get compensated for meaningful work. One day while on the platform, Anna happened upon Smith+Nephew; who had posted a project titled, 'Sales Pitch Presentation'. She noticed the company was in the med-tech space and that if done well, the sales pitch would be used as a job audition for their first Commercial Leadership Development Program. She applied for the project, was selected, and created a sales pitch presentation which she gave to 4 members of the sales/marketing team at Smith+Nephew. After a successful pitch, Anna received a call asking to officially interview. The process was broken into 3, 30 minute interviews each led by a different person in the Sales Department. Once completed, Anna got a call back the following week with a job offer! Her favorite experiences with Smith+Nephew so far have been through 'OJT' (On the Job) Field Trainings. Anna fondly recalls attending an OJT in Omaha, NE where she was able to shadow a Field Sales Trainer for a week out in the field. She was able to see surgeries, meet patients with wounds that use our product, talk to podiatrists and surgeons, discuss any questions she had along the way, and gained a better understanding of how Smith+Nephew operates.
Anna's advice to current students is to use your resources! She declares, "It is CRUCIAL that you take advantage of the resources UCONN provides during your undergraduate career and expand your knowledge. Whether that be taking a resume class, meeting with an advisor in the Career Development Office, or taking a class that might pique your interest. You never know what opportunities can present themselves when you use the resources that you have at your disposal. So while at UCONN, make sure you take the time out of your busy schedule to focus on career development. Set aside a couple hours a week to devote your time to finding what you want to do and seeing if there are any opportunities out there. Don't be afraid to ask for help too! If you're in class and an employer comes in to speak about their company, if you're interested, even in the slightest, go up to them and introduce yourself! Make that first impression and get yourself out of your comfort zone. As long as you are actively trying to 'build your brand' at UCONN, you will have much success!".