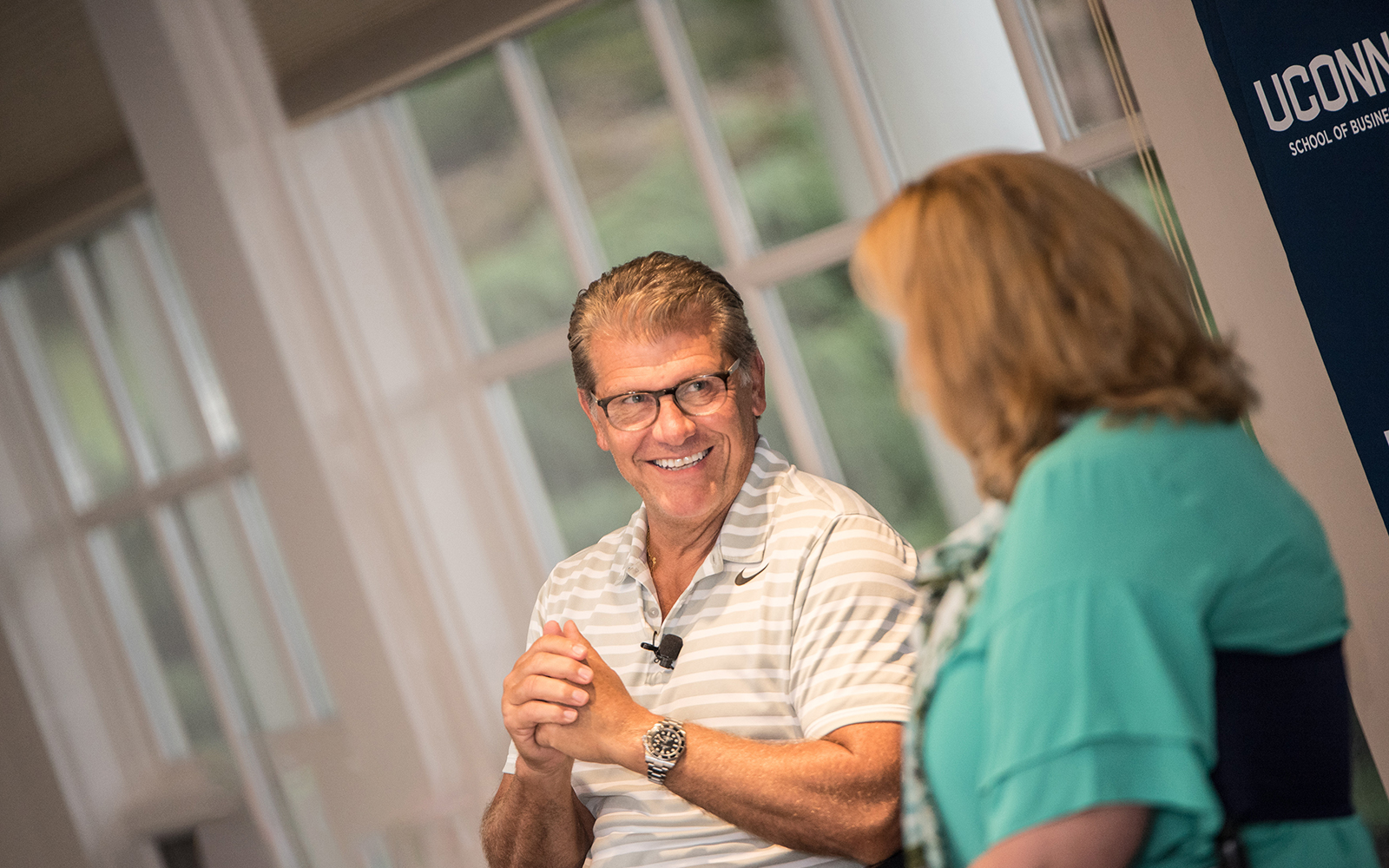 UConn Women's Basketball Head Coach Geno Auriemma faced one of the biggest challenges of his life in the second grade.
The nuns in his Pennsylvania school told Auriemma, who had just emigrated from Italy, he would not move on to third grade, with the 'smart kids,' unless he learned to speak English.
His parents spoke only Italian, and he had no tutors to help him learn a new language. Auriemma had to figure it out himself.
It's a lesson that has often influenced his coaching style, he told the 30 new members of the Executive MBA program's Class of 2020 on Thursday, as they kicked off their two-year educational journey.
"There's something to be said when you give people just enough information and then you see where they take it," said Auriemma, who has led his team to 11 NCAA Division 1 National Basketball Championships. "When my players are in a jam, I say, 'Figure it out!'"
'As Prepared As They Can Be'
Auriemma spoke about his 41 years of coaching, including 33 years at UConn, and leading the U.S. Women's Olympic Basketball Team. But many of the stories he told and lessons he's learned also reflect a successful leadership approach that has made him one of the most respected athletic coaches of all time.
He talked about motivation, leadership style, purpose, stress and his legacy. He talked about his fears, as a young coach, that he would lose his job if his team lost a game. He spoke about how many collegiate coaches micromanage their players and he tries to avoid that.
"I wasn't always good at letting pressure roll off my back. I think I was coaching for the wrong reasons sometimes—to prove that I could," Auriemma said. "Now I believe my job is to make sure my players are prepared, as prepared as they can be. Once the game starts, it's out of my hands."
Attorney Uswah Khan, owner of Fairfield Family Law in Trumbull, sat in rapt attention. She said she enjoyed Auriemma's presentation, and is looking forward to the next two years as an EMBA student.
"I'm not a basketball person, but everything he said relates to life," Kahn said. "I have so much respect for him and what he does. I liked how he emphasized the importance of teamwork."
600 Students Begin Masters' Degree Programs at UConn
The event was moderated by Professor Lucy Gilson, director of the School's management department and the academic director of the Geno Auriemma UConn Leadership Conference, a two-day seminar for rising executives. Held at the Alumni House in Storrs, the program kicked off the EMBA students' education as they prepared for an intense weekend of activities that included understanding and strengthening their communication styles.
"The incoming EMBA students represent 30 of more than 600 students starting masters' degrees at the School of Business campuses in Hartford, Stamford, and Waterbury," said David Souder, associate dean of graduate programs. "The applicant pool across programs was very competitive this year and we were able to select the students best prepared to thrive from interactions with our faculty and each other. We look forward to working closely with these students as they continue to develop into skilled leaders."
Strategies that Lead to Success
One EMBA student asked Auriemma why sports are such a vital part of our fabric, and Auriemma said he thinks we've become sports obsessed.
"As a kid, I wanted to be on a team because it meant I was part of something," Auriemma said. "A team offered camaraderie, respect, the sense that you belong to something greater than yourself. I didn't care about winning or losing! It was about belonging to something and having fun while doing it."
"Today sports have become an obsession with parents and with fans," Auriemma said. "Today the majority of sports have nothing to do with team. What used to be a team culture is now a culture of 'me!' "
Auriemma said one of his challenges is coaching young adults who have never been told: "What you're doing is not good enough." He tells them that they likely came to UConn to get what he has—championships; and if they want that they better follow his instructions.
Auriemma said he has a trickle-down leadership style. If a freshman is late to practice, the seniors will pull her aside and explain that that's unacceptable. They have learned the "UConn way" built on camaraderie and respect. And that frees up his time for strategy and execution.
Auriemma said it is his mission to know his players' strengths and weaknesses early in the season. "I want to find their breaking point," he said. "If you're going to give up, I want to find that out in October, not March. I want to know if they can handle pressure or not, so I throw it at the kids."
Auriemma also spoke of watching his former players and assistant coaches grow into coaching roles of their own. When Tonya Cardoza, now the head coach of the Temple University women's basketball team, was his assistant, she was very quiet. One day he noticed a difference. She urged him to talk to a player who was struggling, and Auriemma resisted. She told him he was dead wrong. At that point, he knew she was ready to lead her own team, he said.
Parting advice for Success
Auriemma told EMBA students to focus on the big picture.
"Be great at the job you have and then you don't have to worry about the next job," he said. "Own the job you have. The way you act, the things you do, say more about you than what happens in a meeting."
"Even if you're a success, if you don't pay attention and work at it every day, you're making a mistake," he said. "The time to make changes and tweak things is when you're at the top. That's when you want to take things apart, not when you're desperate and have to take extreme measures."
"The people who learn earliest in life how to be great teammates will always be in demand. That's how I live my life," he said. Auriemma then wished the students well and told them to enjoy the opportunity to grow professionally with other smart people who are traveling the same road.
Brian Waddell, who grew up in upstate New York and now lives in West Hartford, said he's never seen a UConn women's game in person, but recognizes Auriemma's talent.
"I liked his perspective on leadership, who the customer is and how he enables his assistant coaches," said Waddell, director of process improvement in the finance department at The Hartford.
Both he and Khan said they think it will be inspiring to develop their leadership skills in the EMBA program, as well as to work and learn with other business-focused classmates.