I started off my third week by meeting a friend who lives in London. Georgie was an exchange student at UConn in the Fall 2017 and Spring 2018 semesters and joined my sorority Gamma Phi Beta. It was great to catch up with her and laugh over my deepened cultural understanding of the UK. We hung out in the wealthy area of Hampstead right outside of London. She explained that London is similar to cities in the U.S. in terms of wealthy business people dwelling in quaint neighborhoods and suburbs directly outside of the city, such as Hampstead, to avoid both the craziness of the city and a long commute.
Sunday afternoon was spent at Camden Market, one of my favorite neighborhoods I've been thus far. It was a beautiful day to try street food, sit by the stream, and attempt to bargain with vendors. After Camden, we found a spot for Sunday roast – a UK staple. My first yorkshire pudding did not disappoint. I went back to Camden later in the week to meet Georgie for the England versus Sweden quarter final game of the World Cup and England won! The cultural madness that has ensued from this event is hard to explain. I have loved every minute of it as a lifelong soccer player and fan.
During the week, my class visited the Royal Courts of Justice, Lloyds of London, and the Migration Museum. The Royal Courts of Justice was a beautiful building that hosts the high court of most civil matters in the UK. The tour guide described differences in law between the US and the UK. One that surprised me was that in the UK, you can be charged with the same crime twice, if necessary. This is prohibited by the "double jeopardy" rule in the US. Lloyds of London was my favorite field trip of the three. Our guide emphasized the value of reputation and ethical business practice while walking around this massive and renowned insurance market. The business that takes place at Lloyd's is so unique because underwriters from various insurance syndicates come to trade face-to-face with company brokers at Lloyds. Lloyds of London is also where Jennifer Lopez's legs are insured! Finally, the Migration Museum was a look into a developing goal to create a museum centered around the stories of migrants, and to emphasize that we are all migrants. This effort is, in part, to combat the negative rhetoric in recent politics towards immigration.
My weekend was sights-filled once again. One friend and I spent a day at Windsor Castle (depicted above). It was one of the most breathtaking and quaint places I'd ever visited. My favorite part was St. George's Chapel where the Royal Wedding of Meghan Markle and Prince Harry recently took place. The next day we watched the Changing of the Guard at Buckingham Palace. This was a stunning 45 minute production that locals and tourists alike gathered to view. Later we watched the joys of the Pride Parade! The next day, we did a bus tour of the city and a river cruise on the Thames followed by tea at Harrods. As this was my last weekend in London without travelling elsewhere, I would say it was a success.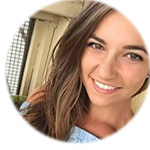 Grace Guertin '19
Student, UConn School of Business
Grace Guertin is a rising senior majoring in Management and minoring in Digital Marketing and Analytics. She is currently enrolled in the UConn Business in London, England Summer Classes/Internship hybrid program until mid-August. Grace is taking classes in Business Law and Human Rights as well as completing an academic internship for Elizabeth Arden's fragrance marketing department while there. She is excited to meet new people, live in a big city, work for a beauty company, and travel around Europe. A fun fact about Grace is that her first time out of the country is for this trip! On campus, she is involved in her sorority Gamma Phi Beta as the Community Service Chairwoman and is active in the Honors Program. View Posts