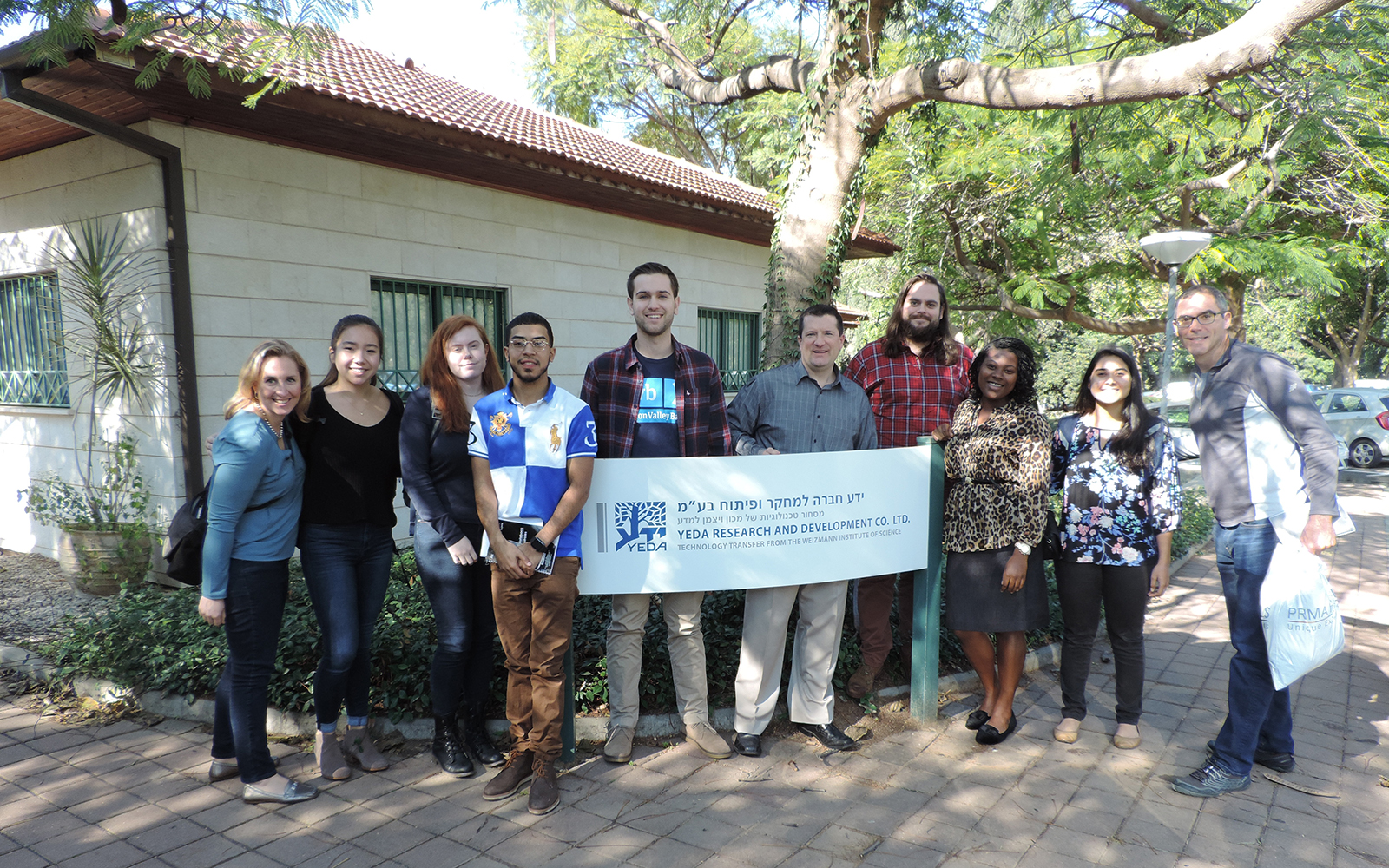 What better place to learn about business, entrepreneurship, and innovation than from one of the world's leading countries for business creation?
That was the goal for eight UConn students who traveled across Israel during their winter break. In Israel, entrepreneurship is not only fostered but it is essential for residents who don't have other 'natural resources' that can be used to earn a living.
"Israel is arguably the most innovative country in the world," said Jennifer Murphy, program manager at the Connecticut Center for Entrepreneurship and Innovation, which organized the trip.
"Israel has created the most NASDAQ-listed companies outside of the U.S., is consistently ranked one of the most innovative and entrepreneurial countries in the world, and is ranked first in the world for number of technology startups per capita," she said. "Israel also has highly developed government programs for funding technological advancements."
Biggest Resource: Human Capital
Junior Nick Wehrle, an economics and psychology major, said the Israeli people seem less afraid of failure than their counterparts in the U.S.
"I think Israel is one of the leading countries in entrepreneurship and innovation for a couple of reasons," Wehrle said. "First of all, the sense of national pride is very profound in Israel. This creates an atmosphere where people want to help build the country, and this shared pride creates more trusting teams. That, coupled with the fact that the only abundant resource Israel has is 'human capital,' means Israelis have to be incredibly innovative in order to do anything."
"The interesting thing is that for every successful startup company, there are another 10 similar ideas in the world that will fail. That is a natural part of entrepreneurship," he said. "But unlike the aversion to failure and stigma of failure in the U.S., Israelis understand that failure is a natural part of any innovative economy."
Students Mixed Business and Sightseeing
During the trip, the students explored historical and cultural attractions as well as trips to prominent businesses. They visited the Western Wall, also known as the Wailing Wall, originally part of the expansion of the Second Jewish Temple begun by Herod the Great; the Church of the Holy Sepulchre, in the Old City of Jerusalem, a Christian pilgrimage and considered by believers to be the site of Jesus' resurrection; and even swam in the Dead Sea. The 10-day trip included three days in Jerusalem and the rest in Tel Aviv.
Students visited venture capitalist firms Jerusalem Venture Partners and YL Ventures; accelerator programs The Junction and Made in JLM, and law firm Pearl-Cohen, among others. These meetings served as an opportunity for students to learn about the inner workings of businesses, as well as to ask questions to top officials in their field.
"I am amazed at the versatility of the country," said Elizabeth Turner, a senior business management major. "There is a huge focus on development of the next big technology and the future, yet as we toured Jerusalem, we experienced over 2,000 years of history that brings together people of all backgrounds, ages and experiences."
Holocaust Museum Elicited Emotion
Students also visited Yad Vashem, a holocaust museum, which proved to be an emotional experience.
"In this moment, I was not a privileged American student listening to a teacher lecture on some catastrophic event that took place during World War II; nor was I an insensitive homebody watching some 'History Channel' special for the purpose of entertainment," Jonathan DaCosta, a junior biology major, said in his trip blog. "As I stood there with my spirits in a downward spiral, all I could do was hope that the people that I was empathizing with somehow understood that I felt for them dearly."
At many points throughout the trip, culture and business adjoined, illustrating the entrepreneurial and innovative nature of Israel's business climate.
"In keeping with the Israeli reputation for entrepreneurship and innovation, the local community has made use of the chemical properties of the Dead Sea and created a thriving cosmetics industry nearby and abroad," said Jenny Blessing, a junior computer science major. Meanwhile, at St. George's Monastery, the local Bedouins have exhibited an entrepreneurial spirit by setting up a stand at the entrance to a nearby hiking trail to sell local trinkets and sustenance to tourists, she said.
The students will be giving presentations on what they learned abroad later this spring.