My 5th week in London was rather mellow. The most exciting part was probably going to the Sky Garden. Although it's certainly not the tallest point in London, the Sky Garden is the top floor of a building referred to as the "Walkie-Talkie" due to its similar appearance. Beyond from spectacular 360-degree views, the garden is filled with a moderate amount of plants while having a glass roof. Attached is an image of the tallest building in London, "The Shard," as viewed from the Sky Garden. It is quite amazing how flat the area is compared to the Northeastern portion of the United States. On another note, unfortunately, the weekend that followed my fourth week in London was largely spent doing homework.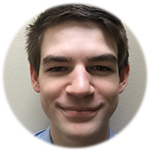 Brendan Armbrust Mulcahey '19
Student, UConn School of Business
Brendan Armbrust Mulcahey is a junior studying finance. He interned this past summer at Axcess Value, a small business valuation firm. A fun fact about Brendan is that during his freshman and part of his sophomore year, Brendan worked at his old high school as the technical director for the school's plays.