The University of Connecticut School of Business has developed classes and programs to address the growing intersection of healthcare and technology.
The School of Business is focusing on healthcare and healthcare technology as fundamental issues in the growth of healthcare knowledge. We have developed a Healthcare Informatics & Technology certificate program designed for adult learners who are seeking additional information and/or career advancement related to healthcare. It's built for entry to mid-level IT staff members employed within healthcare, IT professionals from other industries looking to learn about healthcare, clinicians looking to expand their knowledge of technology, and healthcare business consultants who want to learn more about how technology will affect their industry.
» Programs in Healthcare Management & Insurance Studies
Listen here:
This audio clip originally appeared on the Connecticut Business and Industry Association's CBIA Business Minute.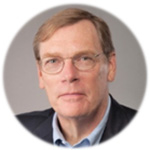 Robert Booz
Healthcare IT Faculty, Healthcare Management & Insurance Studies
Robert H. Booz is a healthcare professional with extensive experience in policy analysis, business operations, and technology enablement. Author of over 125 research articles and having conducted over 2,000 client one-on-one inquiries, his strengths are analyzing the current challenges, emerging trends, and future opportunities of healthcare and the vendors that support them. He has been teaching at UConn for more than 15 years. View Posts