Health insurers can use HIT to help keep premium costs down, but other industries also benefit from healthcare IT advances:
For medical care providers – HIT is good because it creates greater personalization, and it allows for more consistency in the way health is treated.
For pharmaceutical and supplier organizations – it gives them both retrospective and prospective analysis of a disease state, and allows them to have the right mix of products and services across different disease states.
For research organizations – it provides them data across a variety of circumstances; and
For technology companies who are designing new tools, it gives them business opportunities to pursue.
Listen here:
This audio clip originally appeared on the Connecticut Business and Industry Association's CBIA Business Minute.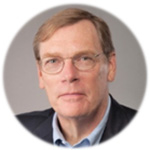 Robert Booz
Healthcare IT Faculty, Healthcare Management & Insurance Studies
Robert H. Booz is a healthcare professional with extensive experience in policy analysis, business operations, and technology enablement. Author of over 125 research articles and having conducted over 2,000 client one-on-one inquiries, his strengths are analyzing the current challenges, emerging trends, and future opportunities of healthcare and the vendors that support them. He has been teaching at UConn for more than 15 years. View Posts