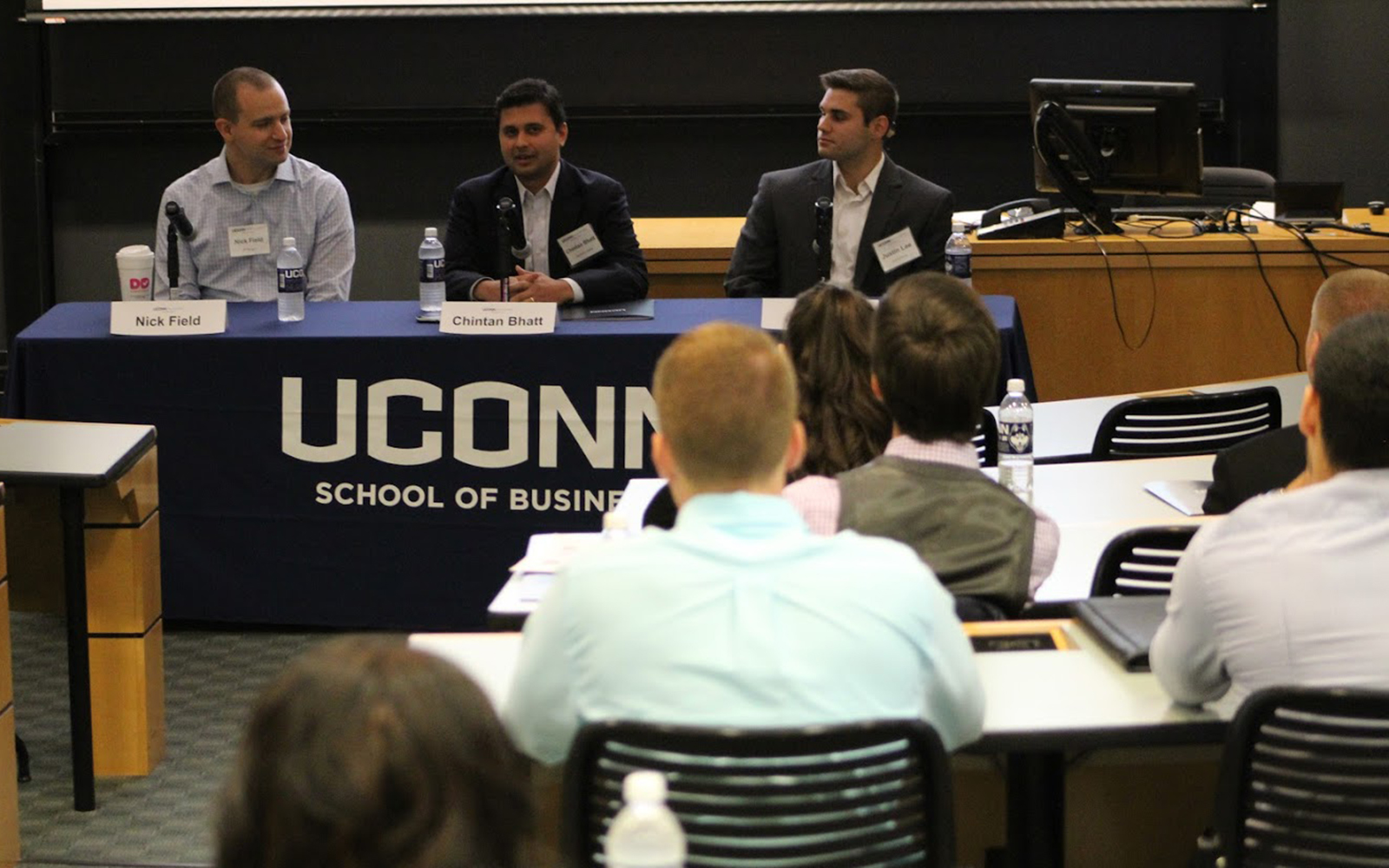 Experts Encourage UConn Finance Students To Seek Jobs in Most Prestigious, Demanding Sectors
Careers in investments, asset management, banking and prestigious Wall Street opportunities were the focus of the inaugural Finance Conference at the School of Business.
"The conference continues the School of Business efforts to make a greater push to place students in more prestigious and demanding areas of the financial sector," said Professor Larry Gramling, associate dean for undergraduate programs.
More than 100 people attended the October conference, which tapped into alumni expertise to help students consider all their career options. The conference was hosted by the Finance Society and the Graduate Finance Association.
The keynote speaker was Kevin Kulak, managing director at Growth Technology Partners, a financial adviser to technology and health care companies. He advises some of the top private firms in the country on different capital-raising objectives.
With over 25 years of experience in investment banking, brokerage and investing, Kulak spent much of his career at J.P. Morgan Securities. He has a bachelor's degree in mechanical engineering from UConn and an MBA from the Wharton School at the University of Pennsylvania.
Kulak spoke about his experience raising capital with some of the world's leading private companies and discussed future trends worth monitoring, including rapid globalization.
Gramling and Finance Department Head Chinmoy Ghosh gave opening remarks. The program was led by senior finance major Sean Phelan.
The conference hosted a variety of moderated panels, along with several industry expert speakers, and a presentation by the Hartford CFA Society. Among the topics discussed were the impact of geopolitics on global financial markets and the divergence of market prices from theoretical fundamentals. While the panels covered technical topics, students were able to hear about each speaker's career paths and the myriad of skills required in their industries.
The panels, comprised of successful UConn alumni and local professionals, gave students the opportunity to gain perspective and engage in real world discussions on pressing issues.
At the end of the day, spirits were high for the School of Business, as alumni and former faculty noted the progress made for the school since their time there.
Speakers at the conference observed that UConn is a school on the rise, as evidenced by increasing numbers of finance majors within the school, growing popularity of the Finance Society, and strong showings at the very competitive Cornell Stock Pitch Challenge and CFA Research Challenge, among many other initiatives.
"I wouldn't be surprised if UConn was a Top 10-ranked business school within the next 5 years," said former professor and Student Managed Fund adviser Patrick Terrion. "The caliber of the school and the students is unprecedented."