Alexa Santos, a senior Marketing major, interned with Avid Marketing Group in Rocky Hill, Conn. this past summer. She spent her previous spring semester studying abroad in Granada, Spain. Alexa proactively contacted and networked with employers while overseas to express her interest in interning with them for the summer.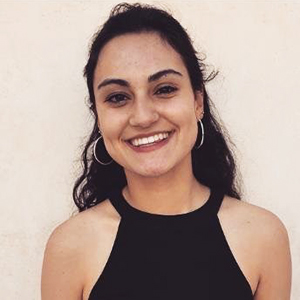 Avid Marketing Group is a small marketing firm that focuses on shopper marketing programs. Alexa was the only intern working for the firm over the summer. She worked closely with the largest client, Diago, designing the sweepstakes programs that ran for the different brands under the client. Planning included marketing research to understand the target market better, what the most efficient way to reach them would be and what prizes are most enticing to them.
Alexa enjoyed her time at the small marketing firm, especially the personalized conversations she had with full-time employees. She learned a variety of skills working with different people in different positions – one of the benefits of a smaller company. On the contrary, the internship was very unstructured compared to her previous summer internship at Henkel. Because of the limited number of employees, she was given random tasks that full-time employees couldn't complete. However, it was all part of the internship experience, adding to her knowledge about what her ideal company to work for would be like.
After graduation, Alexa hopes to work in the music industry. Over the past years in college, Alexa has learned that it is important to broaden your scope when looking for internships. The current internship may not be ideal, but you will learn more about what you enjoy and will gain valuable skills along the way. Keep your options open and be willing to learn more. Alexa is president of Marketing Society. Stop by their meetings to talk with Alexa about her experience!
Alexa's advice: "Be confident in your own skill set. Know that you won't know a lot about a company when you start,but embrace the learning curve. Let yourself explore what you are learning and eventually you will get the hang of it."