Melissa Birnbaum, a junior Marketing major, was an Audience Marketing Intern at Penske Media Corporation this past summer. PMC is a digital media, publishing and information services company that owns publications like Women's Wear Daily (WWD) and Variety magazine. Melissa had the chance to apply through a referral who introduced her to the company.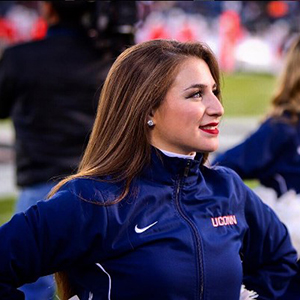 As an Audience Marketing Intern, Melissa experienced marketing analytics, marketing outreach, sales, social media promotion and media buying. Her main project during the internship was to further develop the WWD Education, a weekly newsletter that replaced fashion textbooks at fashion colleges and universities. Professors use WWD Education to create custom curriculums that inspire real-world learning. Melissa contributed ideas to improving WWD Education and reached out to Deans/Fashion Chairs at various college and universities to introduce the newsletter in the most effective way she personally felt possible.
Melissa's favorite part of her internship was being able to create and present a presentation on social media recommendations for WWD Education to the entire Audience Marketing team, from basic staff members to the Director of Audience Marketing. This provided her great public speaking opportunities and improved her ability to take and apply constructive criticism. Recently, her recommendations have been presented to the overall WWD social media team! It is exciting to see how far ideas can go even after leaving a company.
Melissa said her internship offered her a great real life experience, different from the stereotypical coffee-grabbing intern. After her internship, Melissa is even more excited to learn about what Marketing has to offer.
Melissa's advice: "BE PROACTIVE! I applied to countless internships – some I heard back from, some I did not. I took it upon myself to follow-up with companies after submitting my resume and tried to find connections wherever I could. New York City is quite overwhelming when it comes to the job process, so it was vital to my success that I actively sought out opportunities. I think the best piece of advice I can give is to really work your professional network!"