Kendra Andrada had an internship this past summer with Lincoln Financial Group, a Fortune 250 American life insurance company who provides advice and solutions to help customers with their financial futures. She heard about this internship by talking to a Lincoln employee at the Spring Career Fair. She did not hear anything from them until she sent in her updated resume to the HR contact. Kendra applied for a position in Radnor, Pennsylvania. After two phone interviews, she received an offer right away!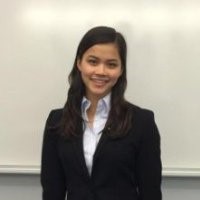 Her primary duties comprised of supporting the Assistant VP of Strategy in the Lincoln Financial Distributors, Lincoln Financial Network, and Annuity Solutions Marketing Department. Her main projects were organizing a department wide service day for 70 participants across four locations, gathering and processing feedback on their newly launched Online Marketing Center, and conducting benchmark research for her manager and the Senior Vice President of the department to use when doing budget planning. Kendra gained valuable experience, instruction and encouragement from her office and other offices by assisting on multiple projects. She also learned that things rarely go as planned in the real world. She said, "Many times I would begin a project with one direction in mind and by the end, it would look very different from what I imagined."
Her internship at Lincoln Financial Group helped decide her next steps for her career. Shortly after she finished her internship, Lincoln offered her a spot in the final round interviews for a two year rotational Leadership Preparation Program. She got the offer and will be starting to work at Lincoln Financial Group next summer! Kendra received not only a great experience and real world knowledge, but also a full time job thanks to her summer internship.