Isabelle Hou is a marketing major who completed an internship with Alibaba Group, a leading online and mobile marketplace for retail and other services in the world headquartered in Hangzhou, China. She heard about the internship from her cousin when she studied abroad in China last semester. After she completed her application and essay, which were done in English, she landed a group interview and an individual interview with HR. A month later, she was offered the internship position.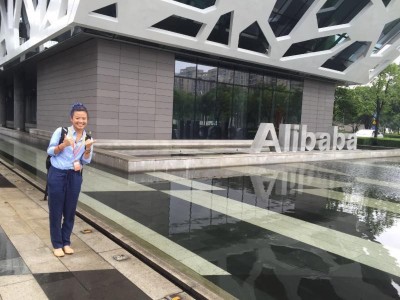 Her main responsibilities at her internship comprised of facilitating international brand development for Alibaba.com Wholesale Platform, expanding the wholesale platform, and establishing a market place for globally branded products. Isabelle contacted global wholesale companies and developed business relationships with clients. She can speak both English and Chinese which helped her to build these relationships as well as translate documents and generate a recruitment process guide for Business Development managers.
Isabelle's marketing courses have taught her a lot about the marketing field. She learned to put clients first and look at the situation from their perspective such as the benefits they would gain by partnering with Alibaba rather than what the company will get from them. Furthermore, projects she needed to complete for her marketing classes allowed her to strategize and organize plans with a creative mind. She learned how to optimize her creativity and communication skills from her courses.
Lastly, Isabelle's most memorable moment was simply surrounding herself in the culture of the Chinese workplace. She said how remarkable it was socializing with her coworkers on campus, going out for lunch with her team, or even taking afternoon naps. She exclaimed "It was quite interesting and amazing experience interning for a corporate company in a different country." Isabelle really enjoyed her internship abroad and living in another country was an experience in itself.
Isabelle's advice for others: "My advice for students searching for internships is to not let rejections discourage you. I have had plenty of rejections and continue to get them, but just keep searching and applying because the right one will come along. My advice for students who have an internship is to ask questions and be proactive. Your managers will love your enthusiasm and willingness to learn and try your best."