Stacia Smart is a marketing senior who interned with Frito-Lay, a large corporation that markets and sells corn chips, potato chips and other snack foods. Over the course of the summer, Stacia worked as a Consumer Insights Marketing intern for the Oven Baked Lays brand. She was responsible for developing a comprehensive situation analysis of the Oven Baked business while collecting historical work, marketplace audits, organizing data and key stakeholders, looking at trends and identifying opportunities. After all this, she initiated a re-branding project and research for the brand.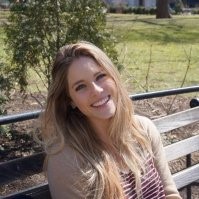 Stacia learned that it's extremely important to have real work experience in order to understand which career you want to go into. The internship at Frito-Lay helped her decide the next steps of her future. With each new experience at work, she learned more about herself. This internship allowed her to have firsthand experience in a leading marketing department. She discovered different strengths to utilize and weaknesses to improve upon once she graduates.
When asking Stacia about classes that helped her at Frito-Lay she stated, "My consumer behavior, research and MKTG 3101 classes were a huge help! Being an insights intern and analyzing data, my consumer behavior and research classes gave me a step up in the learning process throughout the internship." Her marketing classes also prepared her for large events including the Shoes for Orphan Souls Foundation. Stacia initiated, led and organized the charity event to raise donations and awareness for orphans in 81 countries. This single event provided 1,000 children with a pair of brand new shoes. Planning and executing such a generous event was a very rewarding experience for her. Overall, Stacia truly appreciated her internship at Frito-Lay and learned a lot about not only the company, but herself as well.
Stacia's advice to others: "My advice would be to not rush into any decision when deciding your career. You have time. Make sure that you will be able to learn from the experience and that it will suit you. Don't follow the status quo and simply enjoy life :)"