Kendra Thomas is a senior marketing major who interned with Apple, the multinational technology company, this past summer as part of the social strategy team in California. She interacted with all types of social media and participated in social listening to detect buzz generated about Apple. She miraculously got this internship by simply applying on their website. She received a phone and Skype interview before the company flew her out to begin her internship. She thought they'd never get to her application but they did!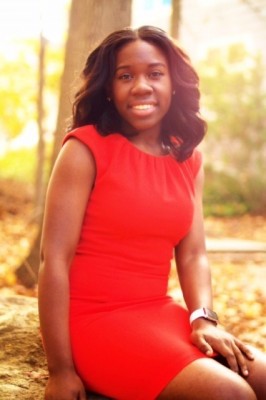 Her internship was an immense learning experience on how to think critically and apply skills in situations rather than memorizing information for an exam. Thomas pointed out, "The corporate world is a much different atmosphere than the classroom. Everyone is able to pitch in ideas and it's strongly encouraged to use your creativity to implement your ideas". Although the corporate environment is different, her marketing classes helped prepare her for the Apple internship. Kendra is earning a Digital Marketing and Analytics Certificate therefore, her classes correlated perfectly with the job description. Jane Gu's Digital Marketing and Analytics course has each student create a website and use data analytics to gauge their success. Kendra said this class benefited her the most with understanding the fundamentals of social media strategy.
For a portion of the summer, Kendra and a team of seven interns turned a simple idea into a presentation board to pitch to their supervisors. Collaborating with others and building upon ideas to create the presentation was her most memorable moment. Her internship at Apple helped solidify the direction she wants to take her career. Her hope is to work in the social media and digital marketing department of larger companies such as Yahoo and Google. Overall, Kendra discovered how one of the largest, most established company in the country operates and she is blessed for the opportunity Apple provided.
Kendra's advice to others: "Present your best self and make sure your resume is on point by using career services. Also, make sure you use LinkedIn and always send a Thank You note. Lastly, don't be afraid. You don't know what will happen. Just send in your resume and application because the worst a company can say is no."