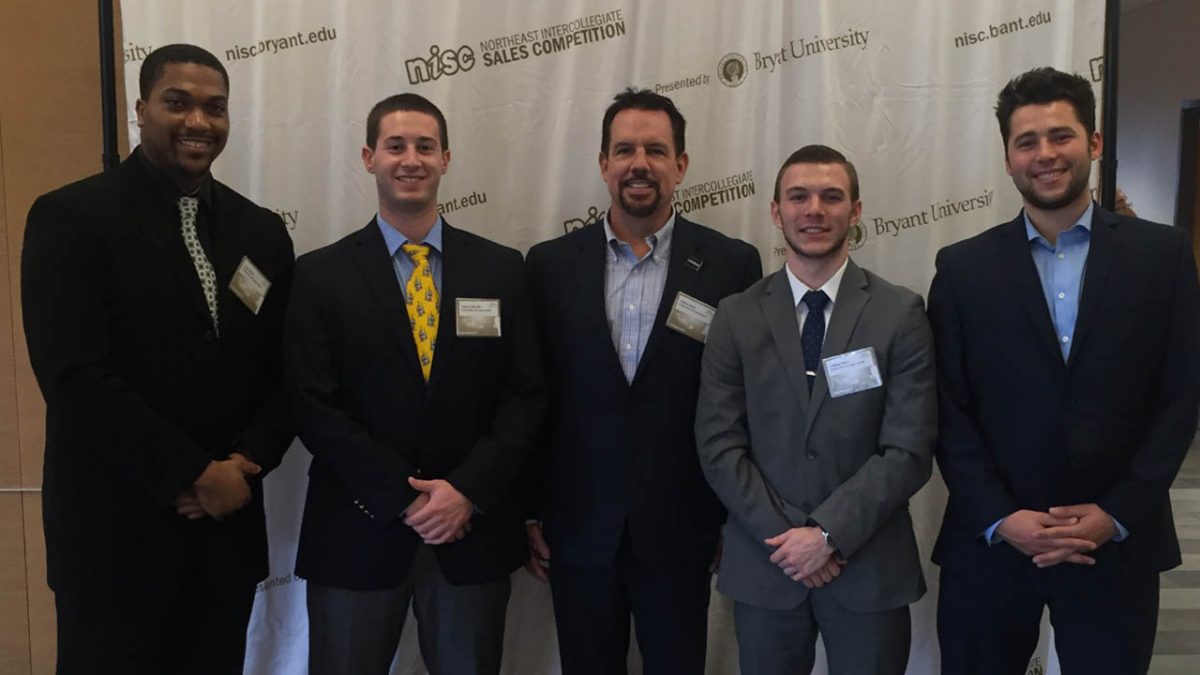 For 150 students interested in professional sales across the Northeast, the Northeast Intercollegiate Sales Competition (NISC) at Bryant University is the ultimate chance to prove their selling skills. This past November, four UConn students from the UCONN Program for Sales Leadership (PSL), Marketing Department, joined Marketing Instructor Bill Ryan to compete at NISC. William Baker '16, Dylan Deleon '16, Tyler Elliott '16, and Adam Lefkowitz '16 competed in sales role plays with sales professionals that represented various companies, attended sales development seminars, and networked with 24 corporate sponsors. Other competitions involved social media and the classic elevator pitch. The students used their strongest persuasion abilities to convince corporate recruiters, managers, or vice presidents that they were the strongest job candidate.
Out of the 17 attending universities, UConn took third place for Overall Sales Team. William Baker, a senior finance major, won second place out of 150 students. He remarked, "It was a fantastic opportunity to get a chance to network with some great companies and individuals. Bryant put on a great competition, and I strongly recommend UConn students interested in professional sales to attend the next one." About his second place standing, he said, "I'm very pleased with how I did at the competition, but there is always room for improvement."
The UConn School of Business offers a Professional Sales Concentration for Marketing majors and a Professional Sales Minor for non-marketing business majors and non-business majors taking classes in the school of business. There are two marketing electives offered each semester – Professional Selling and Sales Management and Leadership. And, coupled with a sales internship over the summer, you can prepare yourself for a successful performance at a collegiate sales competition or a professional sales role after graduation!