I attended the Professional Sales Leadership (PSL) Role Play Networking event with Mary Caravella's Professional Selling course and Bill Ryan's Sales Leadership course in late October. Employers, faculty, and students from both the Professional Selling and Sales Leadership courses attended this event in order to enhance students' communication skills.
The PSL Role Play Competition involved students from the Professional Selling class splitting up into different teams to present a company case and answer questions about which strategies to use in the scenario. Employers from various companies such as EMC and Boston Scientific, evaluated each performance and advanced two students to the final round, Brittney Galeaz and Stephanie Riquier. All students did an amazing job persuading each company representative. I talked to a few students who said it was a challenging experience because they have been learning about the case all semester but when it comes down to it, it depends on how well you present yourself.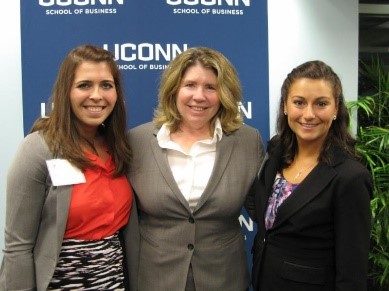 Afterwards, students from the Sales Leadership class joined Mary's group to network with the employers and discuss possible jobs or internships at each company. Taylor Vanfleet, a junior majoring in Finance and minoring in Professional Selling and Leadership, expressed how it's a good opportunity to meet employers and see which companies fit you. She stated "This event has a lot of diverse companies from Enterprise to AT&T. The companies are also very big which means a lot of opportunities".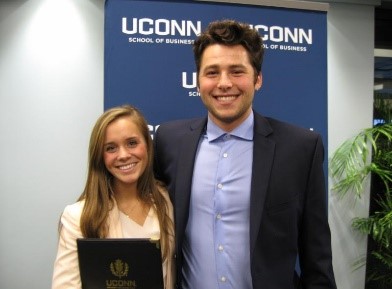 Taylor made note that the PSL Role Play event was not as stressful as an interview because the employers were really nice and relaxed. I even talked to a few employers to learn more about their company and what they are looking for in a prospective employee. Overall, the PSL Role Play was a successful event with a welcoming atmosphere and endless possibilities.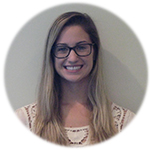 Kaitlyn Richard '16
Senior, UConn College of Liberal Arts and Sciences
Kaitlyn Richard is a senior Communications major with minors in Marketing and Spanish. Kaitlyn works as the Communications Specialist in the School of Business Marketing Department. She is a part of Alpha Phi Omega and Net Impact on the UConn campus. Kaitlyn has twin dogs named Ollie and Riley. View Posts