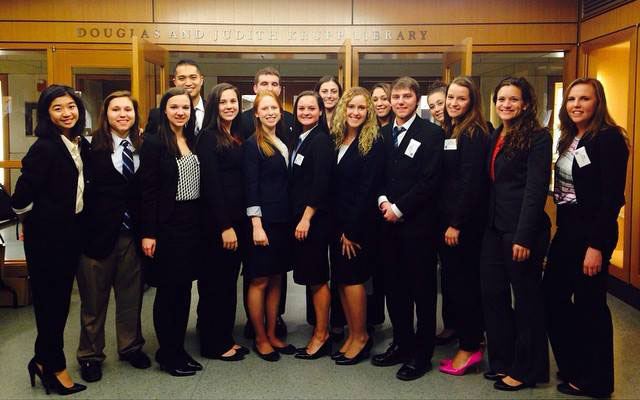 Pi Sigma Epsilon Places in National Level Competitions
by Emily Vasington, Co-president of Pi Sigma Epsilon
During the 2014-2015 academic year, Pi Sigma Epsilon (PSE) involved itself with the local and national community. Pi Sigma Epsilon is a professional, co-ed business fraternity with over 65 chapters at different schools across the country. Locally, members participated in Huskython for the first time, organized a golf tournament with local marketing and sales professionals, and volunteered at elementary schools in the Storrs area.
Nationally, the PSE chapter participates in regional and national conferences that help students network and build their business skills through competition. Bryant University hosted the regional conference, while the national conference occurred in Houston, Texas. Both conferences included competition, speakers, and social events for the attending schools. UConn's PSE chapter placed in several competitions at the national level. These competitions, which include a selling and marketing competition with industry professionals, provide students the experience to hone their skills.
Over the next year, PSE anticipates holding another golf tournament, planning for trips to regional and national conferences, and expanding their presence around the business school. Additionally, members continually engage in professional, social, and volunteer events. For professionals, there are a limited number of sponsorship opportunities available for companies interested in connecting with these future sales and marketing leaders from across the Northeast. If you are interested in learning more or connecting with PSE members, please email pse.epsilon.omega@gmail.com.