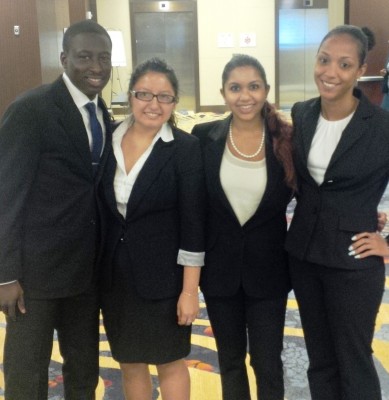 "The KPMG/NABA Case Study Competition provides participants with an opportunity to develop and showcase skills that they'll use throughout their careers on a daily basis," said Reggie Reed, a KPMG Audit partner who has served as one of the competition's judges. "Companies operate in an increasingly complex and global environment, so the ability to think critically, assess risk, and have a global perspective are important traits that organizations like KPMG are looking for in recruits."
Each team identifies and analyzes the issues associated with an MBA-level case study. The students then present recommendations that incorporate their knowledge of the current global marketplace, giving consideration to cultural, economic, political and other factors that would impact a successful implementation.
"KPMG is an organization that's committed to diversity and inclusion and we're pleased to continue to collaborate with them on this competition," said Kenneth E. Cooke, CPA and chairman of the board of NABA, Inc. "The KPMG/NABA Case Study Competition gives our NABA chapter students a chance to take what they've learned on campus and apply it in a real-world, professional scenario–it's gratifying to see how they rise to the challenge."
The UConn NABA chapter will send a team to compete in Las Vegas, Nevada, June 10 – 13, 2015.
Students interested in joining the team should contact NABA Chapter President, Danielle Wellington '15 at uconnnaba@gmail.com.  Must be a paid NABA member to participate.