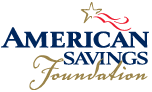 The Robert T. Kenney Scholarship is the largest independent college scholarship program from a single source of funds in Connecticut. The program is named after founding chairman, Robert (Bob) T. Kenney. You can read more about Bob Kenney here.
Scholarships are awarded to students attending a community college, 4-year college or university, or technical/vocational program. Scholarships are awarded primarily based on financial need, with consideration given to academic performance, community involvement, and other indications of a strong desire to achieve goals through education. This award is a grant, not a loan. Recipients do not need to repay grant awards. Applicants must live in one of the 64 Connecticut towns served by American Savings Foundation.
Scholarship awards range from $1,000 – $3,500 for the academic year. The goal is for Robert T. Kenney Scholars to earn their degrees. Most of the scholars receive support for all four years.
This year approximately 400 Robert T. Kenney Scholars will receive a combined total of more than $750,000 in scholarship support from the American Savings Foundation. Over the years the Foundation has awarded $8.5 million in scholarships to help 1,868 students achieve the dream of a college education.
To start a new scholarship application, visit this scholarship website.