This article first appeared in the UConn Business magazine, Volume 4, Issue 1 (Winter 2014)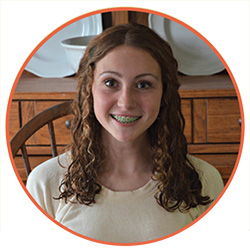 Her pumpkin-colored business card simply reads: Hiccupops. Mallory Kievman, CEO.
What it doesn't say is that the CEO is only 15 years old, still wears braces, or that just last October she was awarded her first patent.
Nor does it mention that her invention, a sweet-tasting lollipop that cures hiccups, is drawing interest among the medical community, because sometimes hiccups can be a serious medical condition.
"It hasn't really registered with me how cool it is to be 15 and have my own invention," said Kievman, of Manchester. "I'm more excited about the opportunity to help a lot of people."
Although the concept for the Hiccupops was all Mallory's, UConn MBA students and staff have guided her as she prepares to bring her invention to the marketplace. She is currently looking for a manufacturer and distributor.
"When I was younger I had a lot of hiccups," Kievman explained. "It wasn't anything serious, but it was irritating." She tried some 100 remedies, including pickle juice ("it was really gross"), standing on her head, and guzzling glasses of water.
Then she hit on the perfect concoction. She blended warm apple-cider vinegar with sugar, and then hardened it into a lollipop. The Hiccupop works by overstimulating a set of nerves in the throat and mouth that are responsible for hiccups, thus stopping the reflex.
She entered the Hiccupop into a school-wide invention contest and won. She then competed in the 2011 Connecticut Invention Convention at the University of Connecticut. She beat 700 other students for the top prize, which included business guidance from the university.
"That's when I really started to think it was a legitimate prospective business," said Kievman, now a sophomore at Loomis Chaffee School and a varsity soccer player.
Kievman had targeted Hiccupops as a consumer product. But UConn MBA students conducted additional research and found out that hiccups have serious medical consequences. Patients undergoing chemotherapy frequently suffer from hiccups, as do dialysis patients. A patient who has hiccups after surgery can risk tearing sutures. And sometimes nicotine patches can have hiccups as an unpleasant side effect.
Now Kievman has changed her strategy, and plans to introduce Hiccupops as a medical product. She is also considering partnering with another company that offers related products.
"UConn has been a huge resource for us," said Adam Kievman, Mallory's father and Hiccupops' only other employee. "Both the business and engineering schools last summer helped with the core marketing research and investigated what opportunities might be. They really helped guide Mallory in the marketplace."
"I think this invention has some real possibilities," said Chris Levesque, interim executive director of the Center for Entrepreneurship and Innovation at UConn, which at any given time has six new ventures in development. "To cure or ameliorate the symptoms of hiccups seems to augur well for a successful product."
Kievman—whose father is an executive recruiter for a large pharmaceutical company and whose mother, Shannon, is a teacher—said discussing ideas for new businesses is a common dinnertime conversation in her family, which includes three younger siblings.
"Mallory sets the bar high for everyone, including herself and her siblings," her father said. Because of her invention, she has appeared on the Nickelodeon television network, rung the opening bell on Wall Street, and has been featured in a New York Times article. She currently serves on the Board of Directors for the Connecticut Invention Convention.
Originally planning to become a doctor, Kievman said the closer she gets to college, the less sure she is about a career path. But she hopes it will be something that serves mankind.
"This opportunity has opened my mind to things I wasn't interested in before," she said.
 To learn more about Hiccupops, go to http://hiccupops.com/.