This article first appeared in the UConn Business magazine, Volume 4, Issue 1 (Winter 2014)
The entrepreneurial spirit has always been a part of the fabric of the State of Connecticut. We are, after all, home to the first hamburger, the original lobster roll, the Wiffle Ball and the Frisbee, the sewing machine and color TV. More recently, Connecticut innovators created the first nuclear submarine and the first artificial heart.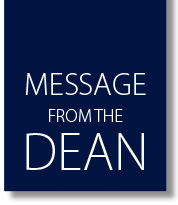 It seems only appropriate that the University of Connecticut invest in, nurture and promote the people who develop the many ideas, products, technologies and businesses that improve our lives. The School of Business is committed to entrepreneurship as one of the pillars of our developing strategic plan and this plan seems to dovetail nicely with the University's vision for the future.
One of our many goals in the School of Business is to continually seek opportunities to broaden our curriculum and maintain our educational advantage in this rapidly changing, global marketplace. Toward that end, I'm pleased to announce that Professor Timothy B. Folta has joined our faculty as the Thomas John and Bette Wolff Family Chair in Strategic Entrepreneurship. His experience includes 15 years on the faculty at Purdue University's Krannert Graduate School of Management. Dr. Folta's teaching and research, which has earned international acclaim, examines both entrepreneurship and corporate strategy. His work has been recognized by the Academy of Management, the Fulbright program and the U.S. Small Business Administration.  He brings knowledge and passion to his new position.  He also brings deep experiences from another excellent business school and we all benefit from the infusion of new expertise and perspective. (See Faculty Profile: Timothy  B. Folta).
Our students, both those in the School of Business and those in other academic programs, have learned that with an education, a creative mind, hard work and a dynamic business plan, the opportunities for success are many.
Take Mark Smith, for example. This 2013 UConn alumnus is a scientist, first and foremost, but also an inventor and businessman. He and his business partner have created an exciting imaging product, the Macropod, which will appeal to everyone from scientists to sports enthusiasts. Their first order has just come in the door.
But their Macropod invention might not have come to fruition were it not for his participation in Innovation Quest (iQ), a phenomenal business-incubator program at UConn that enables students to create a business under the watchful guidance of faculty and our very generous alumni business experts. We are eager to begin our third annual program this spring.
Meanwhile, the first-ever "Connecticut Celebrates Women Entrepreneurs" conference in September at our Stamford campus was another highlight of 2013. Keynote speaker Cindi Bigelow, President and CEO of Fairfield-based Bigelow Tea shared her business management insight with the sold-out audience of almost 400. Business women also took advantage of a series of workshops, the opportunity to consult with senior women executives and the chance to introduce their businesses to new customers.
Also in this issue of UConn Business, we feature some of our youngest entrepreneurs—the next generation of Connecticut's visionaries. Please take a few minutes to read their stories. I have no doubt you will feel encouraged about the future of entrepreneurship here.
Wishing a happy and prosperous New Year to all,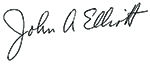 John A. Elliott
Dean