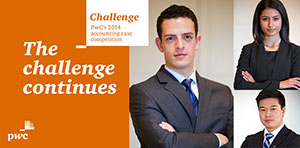 Time is running out! Your vote can send our team to another national championship!
The UConn Trailblazers—a team of five talented accounting students—is hoping to compete in the prestigious PricewaterhouseCoopers (PwC) Challenge national case competition in New York in January.
To get there, the team must defeat Villanova, Texas, Arizona and Gonzaga by getting the most votes on Facebook. Only the top vote-getter may attend.
Trailblazer team members include Katie Pontoniec, Lauren Consoli, Jack Murphy, Giovanni Ninivaggi and Daniel Francoeur.
"There are five semifinalist teams, and the team that has the most votes when the polls close on Friday will go to New York in January to make their presentation to the national leadership of PwC," said Professor David Papandria of the Accounting Department. "This is a big deal. Dozens of teams participated in the challenge, and our UConn team is so close."
You can click on the link below to vote. Please vote once a day through Friday to help our team. Thank you!
Vote here »
Tell your friends to vote!