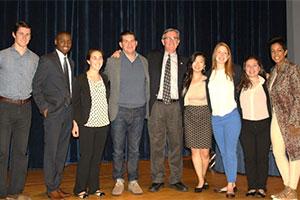 The Honors in Business Association (HiBA) hosted Jim Calhoun '89 (CLAS), CEO of Converse for a discussion about his experience as an undergraduate at UConn, his career path, and what it is like being CEO of a multibillion dollar international company.
Before speaking to a larger audience, Calhoun spoke with students at an intimate reception sponsored by the UConn School of Business Dean's Office. Gregory Doyle '15 (BUS), an attendee at the reception stated, "It was great connecting with a past UConn graduate who has been successful on a large corporate scale. He seemed really passionate about Converse and what it represents. I especially enjoyed hearing about the mistakes he has made along the way and what he has learned from them."
Following the reception Calhoun began his discussion in the Student Union Theater with a picture of his father, former UConn men's basketball head coach Jim Calhoun. The picture was of the former coach wearing Converse sneakers as a college student and playing basketball against UConn, a team he would later coach. Calhoun brought the picture full circle stating that the picture hangs in his office at Converse headquarters.
In addition to taking in advice from Calhoun, students were stunned to learn that Calhoun was to thank for the famous product placement of Wilson in 'Cast Away' starring Tom Hanks.
Both the reception and speaking event attracted UConn students across all disciplines who all took something away from Calhoun's talk. Justin Hall '17 (ENG) stated, "Calhoun's presentation was both insightful and interesting. Personally I left with a greater understanding of how to utilize and how to create pivotal opportunities throughout my life." Alyssa Zabin '16 (CLAS), from student group Leadership in Action added, "It was great as students to see what huskies before us have done as they build upon their undergraduate experiences in profound ways."
Larry Gramling, associate dean of the School of Business who sat down with Calhoun for a question and answer session expressed, "A great deal of what made the event one of the very best I have ever attended at UConn was first and foremost due to Jim Calhoun who did a great job by just being himself: genuine, down-to-earth, and engaging before the event in the Lounge, during the talk, and afterwards when many of the 100 or so in the audience came up to talk to Jim."
About Honors in Business Association: Honors in Business Association (HiBA) is a student organization formed between the Honors Program and UConn School of Business. HiBA strives to create a sense of community for students in both Honors and the School of Business and those with an interest in business while focusing on professional development. Contact information: uconnhiba@gmail.com or Quian Callender at quian.callendar@uconn.edu.
Pictured L to R: John Averill '16 (CLAS), Quian Callender '16 (BUS), Alyssa Zabin '16 (CLAS), Jim Calhoun, CEO of Converse, Associate Dean of the School of Business Larry Gramling, Grace Kim '16 (BUS), Emily Vasington '16 (BUS), Brooke Wasserman '15 (BUS), and Global VP of Communications at Converse Terri Hines.