What should a modern business education encompass?
Innovation, Sustainability, Analytics Top List of Academic Strategies
---
This article first appeared in the UConn Business magazine, Volume 4, Issue 3 (Summer 2014)
Education is a truly transformative experience.
While it is incumbent upon our students to take advantage of the many wonderful opportunities they have here at UConn, we—the administrators, faculty and staff—have an equally formidable responsibility.
Education is never stagnant. We must be mindful of the changing business climate, tap the expertise and perspective of our business partners, and consistently deliver the knowledge and skills that our students require.
We must embrace change. This year the School of Business will adopt a new academic vision to guide us in our preparation of future entrepreneurs, executives and decision-makers.
In consonance with the University of Connecticut's newly adopted academic vision, "Creating our Future: UConn's Path to Excellence," we have identified the following four areas for emphasis: creativity, innovation and entrepreneurship; sustainability and risk management; analytics and big data; and healthcare management and insurance studies. All are vital to economic growth and solving the world's problems, be they personalized medicine and genomics, data management or protecting our planet. These areas of emphasis help focus our attention and guide our growth. They engage us with our business community. However, they do not mean we are turning away from the core functional education that our students seek and our business partners rely upon in the traditional areas.
At the UConn School of Business, we strive to be a globally-recognized provider of exceptional managerial and business leadership. We believe that academic excellence in a modern business education requires a global perspective. Our many goals include identifying and addressing business challenges and recognizing our role as a partner in the success of business development both in Connecticut and beyond. We believe our new academic vision will keep us sharply focused on those goals.
In this issue of UConn Business, we have the opportunity to introduce you to a very special family whose generosity will enable us to continue to invite the most deserving students to our ranks.
Denis '76 CLAS, '77 MBA and Brita Nayden '76 have donated $3 million towards the new UConn Basketball Champions Center and for scholarships for student-athletes, with a very generous amount earmarked for School of Business students.
The School honors remarkable individuals by induction into the School of Business Hall of Fame. Denis Nayden has already earned this distinction. In this issue you will also enjoy reading about five of our remarkable alumni whose business accomplishments, character, and dedication to others have recently earned them similar recognition.
While each of their passions and stories is unique, I'm sure they share the mantra of alumna Amy J. Errett '79 (CLAS), an entrepreneur, senior executive, venture capitalist and philanthropist. When asked how she accomplishes so much, she said: "Well, I don't sleep a lot … I get up early and go to bed late, and I try to make every day count."
Our Storrs campus is bustling with the addition of headquarters for the Connecticut Small Business Development Center, now located on the second floor of the School of Business. The CTSBDC provides free, confidential, business advising to entrepreneurs who are forming or growing a business. We certainly believe this partnership will be advantageous for our students, our university, and many businesses throughout Connecticut.
As the summer draws to a close, the School of Business faculty and staff are excited for this academic year. Always a busy time, this year it is even more so, as we usher in new programs in Human Resource Management and in Digital Marketing & Analytics, a rapidly growing field with tremendous employment opportunities.
Best wishes to all,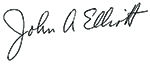 John A. Elliott
Dean and Auran J. Fox Chair in Business