This article first appeared in the UConn Business magazine, Volume 4, Issue 2 (Spring 2014)
No one would blink an eye if one of our students embarked on a cross-country road trip. But what happens when that 'road warrior' is the dean?
During the last year I've had the pleasure of traveling across the country to meet many of our bright, successful and very gracious School of Business alumni. From Seattle to Atlanta, all have been exceptionally warm and welcoming.
I've noticed that our alumni, whether recent grads or members of a class from the 1930s, have three things in common:
Almost all mentioned a faculty member—sometimes several—who had made a valuable and long-lasting impact on his or her life. That tells me that our professors are more than just great teachers, but that they are caring, involved and respected mentors as well.
Many former students were in awe of how much the School of Business has grown, and how competitive, visible, and prestigious the University of Connecticut has become. They said they feel tremendous pride in their alma mater's ability to attract high-achieving students.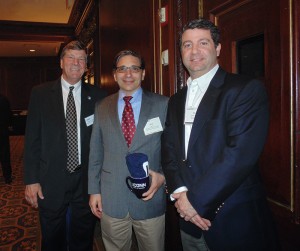 Whether in Chicago, Boston, Houston or New York, I was struck by the pride our alumni exhibited for their university, and their unwavering True Blue Husky spirit.
Many have offered to help our current students as they seek impressive internships, that all-important first job, or a transfer to a new industry. At the School of Business, we hope to continue engaging and expanding our network of successful alumni as they create, shape, and lead businesses, not only in Connecticut, but across the country and throughout the world.
Our spring issue of UConn Business highlights a tremendous program that I certainly wish were in place when I was an undergraduate. The Business Connections Learning Community (BCLC) welcomes freshmen business students to a portion of a dormitory dedicated exclusively to them.
From their inaugural day on campus, our BCLC students are treated like future business executives—with unique opportunities to learn, network and travel. The first students to participate in the BCLC program will graduate this spring.
Four prominent executives—all from vastly different industries—kept the audience enthralled during a "CEO Evolution" roundtable hosted at our Stamford campus in January. Corporate leaders and students alike were able to enjoy the wisdom, advice and honest reflection of some of Connecticut's sharpest business leaders.
Inspired by what she learned about sustainability during a UConn-organized trip to Australia, Professor Katherine Pancak developed a one-credit Sustainable Real Estate course back home. The "Green Business: Australia" program is hosted by the UConn Center for International Business Education and Research (CIBER) and is open to our faculty, as well as professors from other colleges.
In closing, I want to wish our newest alumni, the Class of 2014, tremendous success and fulfillment as they begin their new journey in life. May your careers be rewarding, your aspirations limitless, and your UConn education a source of confidence, pride and preparation. Keep us apprised of your new endeavors as you enjoy the very best of what life has to offer.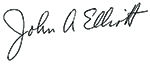 John A. Elliott
Dean