Marking its first time participating in the Rotman International Trading Competition (RITC)–a very prominent, well-established global competition–the UConn team captured third place in the Quantitative Outcry Case.
Making up UConn's team were MSFRM students Brian Asselin, Chad Belanger, Matt Dyer, and Tejas Patel.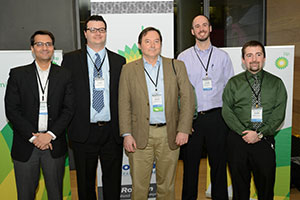 "This is truly a significant achievement for the students," said Michael Oancea, assistant professor of finance and academic director for the MSFRM program, who accompanied the students to the annual competition hosted by the Rotman School of Management at the University of Toronto. "Not only was it UConn's first time participating in the world's largest trading competition, but it was also the team's first introduction to the Rotman trading software."
This year's contest featured 52 teams from various institutions including many prestigious universities such as MIT, Stanford and Princeton, competing for two days in simulated trading cases that closely resembled recent market trends.
"Many of the schools that attend the competition have a trading lab and use the Rotman trading software as a part of the finance curriculum," added Oancea. "Consequently, their teams get a lot of experience in simulated trading, which is very important as the behavior of the market will depend on the interaction between traders."
The competition is structured around Rotman's Interactive Trader platform, a software that creates an electronic market where team members can interact and trade with each other. This platform operates by simulating challenging cases that test participants' ability to handle various market scenarios.
Some of the different types of cases presented to the teams were: a sales and trading case that focused on market making, a commodities case sponsored by BP, and, of course, a quantitative outcry.
The quantitative outcry case, in which the UConn team placed third, is a challenging round that forces team members to analyze both quantitative and qualitative data to make trading decisions. They must simultaneously determine how to effectively communicate their analysis to their team members via nonverbal signals.
This was especially a challenge for the UConn team because, as Patel explains, "The four of us did not have any time to practice or work on our communication techniques before the competition since we were based out of different campuses. In fact, the first time we all met was at the Toronto Airport!"
But according to team member Belanger, this only helped them perform better.
"We were unable to devote as much time to training as some of the other teams, as some plan all year for this, but this gave us the advantage of being more adaptable," said Belanger. "Instead of letting the models dictate our every move, we allowed the models to point us in a general direction and made trading decisions by closely watching the market and reacting to the news that was released in each case."
"To succeed in this competition, a team must blend a good understanding of economics and finance with analytical skills, intuition, coordination and leadership," said Oancea. "Given the team's unique circumstances, it's even more impressive that they performed so well."
"My favorite part was getting to meet and interact with students and faculty from so many different schools from around the world," said Patel. "It's an enriching experience. Not to mention, you make new friends and grow your professional network at the same time."
Asselin agreed, adding, "Seeing and hearing the reactions of our competitors during the real time simulations brought the trading room to life and brought out the competitive edge in all of us. Engaging in trading with fellow business students from all over the U.S., Canada, Europe, Asia and Africa was like participating in our own miniature global economy and I enjoyed every minute of it with team UConn."
Photo (from left to right): Tejas Patel, Brian Asselin, Professor Michael Oancea, Matt Dyer and Chad Belanger.