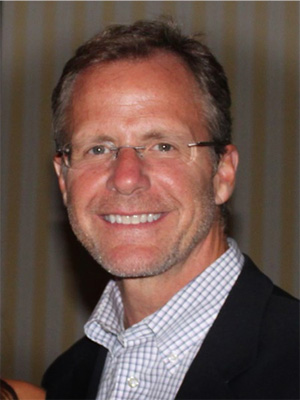 Storrs, CT – John Fodor '85, executive vice president, sales & distribution, The Capital Group/American Funds, has been named the 2012-2013 Outstanding Alumnus for his exceptional support of the Marketing Department, including the recent establishment of the Fodor Family Scholarship Fund. Fodor, an '85 graduate of the College of Liberal Arts and Sciences and varsity-letter football player (receiver and safety) wanted to align his commitment to both academics and athletics through this endowment. The Fodor Family Scholarship will be awarded annually to varsity student-athletes pursuing a minor or certificate in Professional Sales through the Program of Sales Leadership, who have a demonstrated financial need, and who are engaged in a University community service or community outreach program.
In a recent conversation, John Fodor offered, "I wish they had this program when I was at UConn. In all my years in business, I have seen that those that have the ability to 'sell' themselves, which can present, motivate and persuade others, achieve the most success in their careers. This holds true across all vocations, not just professional salespeople. An accountant, marketer, really anyone who aspires to lead an organization needs to master these skills. The unique experiences and skills gained through the UConn Program for Sales Leadership will enable graduates to be more marketable in today's competitive job market, and prove invaluable as they venture out in the business world. Who wouldn't want to help support that?"
At American Funds, John is responsible for broad distribution efforts, including Non-U.S. Retail, Separately Managed Accounts, Insurance, and a host of other Capital Group solutions. Prior to joining American Funds in 1993, he was a senior account supervisor for CIGNA Group Pension. John is a member of the Financial Industry Regulatory Authority; he sits on the Board of several charitable organizations, including The Foundation for Financial Planning, an industry group committed to delivering pro bono financial planning to those in need.
John lives in Southborough, MA with his wife, Sally, and their two daughters, Sarah and Jessica.