For the second year in a row, UConn MBAs won first place in the APICS Northeast Supply Chain Business Case Competition held this year February 7-8, 2014 in Albany, NY.
The winning "Grand Champion" team, comprising Jaimin Bhatt '15 MBA, Mohit Ganotra '15 MBA, and Bhupender Singh '15 MBA, will represent the Northeast District in APICS International Student Team Competition scheduled for October in New Orleans.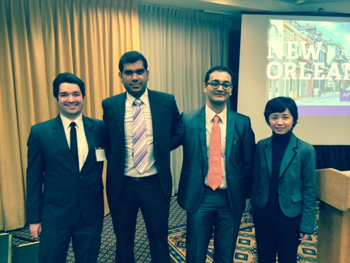 APICS is the leading professional association for supply chain and operations management and the premier provider of research, education and certification programs that elevate end-to-end supply chain excellence, innovation and resilience.
Student teams in the APICS competition develop and present, written and oral, solutions based on a case study featuring a real company with a specific operations management problem.
Cuihong Li, associate professor of Operations and Information Management, served as the team's faculty advisor.
In 2013, UConn's three MBA teams swept the competition taking home first, second and third places.
In other competition news, UConn was invited once again to participate as one of twelve schools in the 2014 Illinois MBA Strategy Case Competition, which was held February 6-8.
The UConn team – Tugba Onder '14 MBA, Pornpong Lueang-A-Papong '14 MBA, Ash Kumar '15 MBA, and Sheila Marshall '15 MBA – competed against teams from University of Illinois, University of Minnesota, Purdue/Krannert, SUNY/Buffalo, Iowa State, Baylor, Washington University at St. Louis, and Hong Kong University of Science & Technology.
Though UConn did not place in the top three this year, Ash did receive an individual award for "Best Presentation."
Serving as advisors for the UConn team were David Souder, assistant professor of Management, and Meg Warren, assistant director of MBA Career Center.
'Grand Winner APICS Northeast District Student Case Competition 2014'.
from left: Mohit Ganotra, Bhupender Singh, Jaimin Bhatt, and Cuihong Li