This article first appeared in the UConn Business magazine, Volume 3, Issue 2 (Spring 2013)
Three stories of learning accelerators helping Connecticut
Immersing students in real-world learning, experiential learning accelerators at the School of Business aim to empower students to manage challenges within today's dynamic and complex corporate world. Recent and ongoing projects are no exception: from complex cost-benefit analyses, to identifying commercialization opportunities and economic viability of proposed projects, experiential learning remains at the forefront of UConn's business education and a contributor to the State of Connecticut. 
SS&C Technologies Financial Accelerator:
Costs and Benefits of Hardening Utilities 
As the state continues to recover from damage done by recent storms, Northeast Utilities has called upon the resources of UConn's School of Business SS&C Technologies Financial Accelerator and the School of Engineering to study and analyze "selective hardening" options for strengthening the infrastructure of utilities throughout the state. To date, three viable options have been identified to harden the power supply and mitigate damage from storms: microgrid, underground, and emergency generators.
Faculty advisor Michel Rakotomavo, Associate Professor in Residence, Finance, at the UConn School of Business has been closely involved with the project, working with two graduate students in this multi-phase project to determine a cost/benefit analysis for each hardening option in eight Connecticut regions. "The students are gaining valuable skills, applying technical features in Excel and using Crystal Ball simulation software," he says. "We are also taking into consideration all of the sub-alternatives for each option, as well as voltage levels, so there is a lot of data involved."
Recommendations from the project have been presented to Northeast Utilities. Recommendations will form the basis of discussions with key stakeholders including Connecticut's Department of Energy and Environmental Protection (DEEP). "It will take time for implementation, but the results and findings of this project will be heavily used," says Dr. Chinmoy Ghosh, Head of the Finance Department and Executive Director of the SS&C Technologies Financial Accelerator and Student Managed Fund.
Stamford Learning Accelerator:
Seaweed Ventures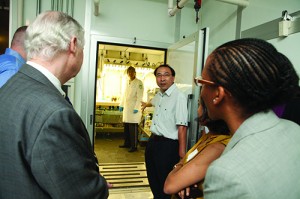 Starting as an exploration of commercial uses for seaweed and the economic viability of growing seaweed in Long Island Sound, an ongoing cooperation between the Seaweed Marine Biotechnology Lab at UConn-Stamford and the International Business Accelerator (IBA)—operating within the Stamford Learning Accelerator (SLA)—has brought together faculty, students, and local businesses into a series of exciting, multifaceted endeavors. The business projects have been funded by the Connecticut Center for Entrepreneurship and Innovation (CCEI). "Everyone involved is bringing a unique background and skillset to this project," says Dr. Tim Dowding, a retired Navy Oceanographer and Associate Director of the IBA.
Inspired by their work identifying ways to commoditize seaweed, Timothy Hidu '13 and Paul Melancon '13are developing their idea for a business. Based on findings indicating that micronutrients in seaweed stimulate plant growth, Hidu and Melancon intend to develop and sell a seaweed-based "biostimulant," now being tested at the UConn Floriculture greenhouse to determine the optimal seaweed formula for boosting turfgrass growth.
"Over the past two semesters, Tim and I have written our business plan, complete with financials, and had an economic impact analysis done by CCEA [Connecticut Center for Economic Analysis]. Currently we are working in conjunction with [Dr. Richard Parnas and Ph.D. candidate Iman Noshadi in] the Chemical Engineering Department, JD/MBA candidates at the Law School [Gabrielle White and Lisa Tran], [Dr. Karl Guillard at the] Department of Plant Science and Landscape Architecture, Turfgrass Science Program, and the CESE [Center for Environmental Sciences and Engineering] lab, all within UConn," says Melancon. Summer field trials are planned for the Plant Science Research Farm.
Meanwhile, Professor Charles Yarish of UConn's Ecology and Evolutionary Biology and Marine Sciences Departments and Assistant Research Professor Dr. Jang Kim have been growing seed stock of the native red seaweed called Gracilaria, and the sugar kelp, Saccharina, using the expertise of graduate business studentAllan Meng, MD, to determine appropriate pricing models for selling the seed stock to the general public. JD/MBA candidates have been working with the State of Connecticut Department of Agriculture / Bureau of Aquaculture to help draft legislation related to regulatory issues for business ventures that want to commercially cultivate these seaweeds as cash crops in Connecticut waters of Long Island Sound.
Local shell fisherman and owner of the Thimble Island Oyster Co., based out of Branford, Connecticut, Bren Smith lost a significant amount of his oyster crop and gear to Hurricane Irene in 2011. Drawing from the advice and assistance of Drs. Yarish, Kim and Dowding, Smith has now launched the first commercial seaweed farm permitted in Connecticut waters, and is preparing to harvest his first crop of sugar kelp. Smith is partnering with Yarish and his colleagues in a research project supported by the Connecticut Sea Grant College Program, The National Fish and Wildlife Foundation and the LIS Futures Fund in using the sugar kelp for nutrient bioextraction in Long Island Sound. He has also received extensive interest from many regional restaurants who are interested in purchasing his seaweed for use in a wide variety of dishes.
Bridgeport Regional Aquaculture Science and Technology Education Center (BRASTEC) is working closely with Dr. Yarish on growing high quality Gracilaria in large climate controlled tanks and is seeking Hazard Analysis & Critical Control Points (HACCP) certification for food handling to process food-grade seaweed, including Gracilaria and sugar kelp, for sale to the general public. Helping stimulate resurgence in Connecticut's aquaculture industry, hundreds of jobs could be preserved and created based on seaweed and derivatives developed through these SLA collaborations.
Challenged and Inspired:
Proposing New Business Uses for IBM's 'Watson'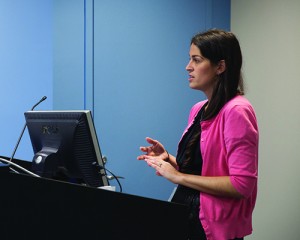 IBM, developer of the 'Watson' computing system best known for beating human contestants on the TV game show, "Jeopardy!" turned to student teams at the UConn School of Business' Stamford Learning Accelerator for ideas on turning data among Watson's vast inventory of unstructured information into purpose-based recommendations. The semester-long, course-based project was developed and run by marketing professor Girish Punj in conjunction with Brian Brady, SLA Director and Instructor in Residence, and Jud Saviskas, Executive Director of the UConn School of Business Stamford Campus.
Comprising two teams, Tiffany Betz '14 MBA; Donald Butts '13 MBA; Anna Jakubek '07, '14 MBA; Robert Johnson BUS '13; Anu Jose '13 MSBAPM; Thomas Jose '13 MBA; and Siddhartha Sharan '13 MBA were tasked with presenting ideas to IBM executives on how the Watson technology could be commercialized. One team focused on integrating Watson into the pharmaceutical industry, particularly the growing field of "new indications" in which compounds in drugs meant for one condition are re-purposed and launched to help in other conditions. The second team presented ideas to IBM officials on how Watson could make customer call centers more efficient by helping operators get accurate answers more quickly.
Asked what she would tell other students about the experiential learning process, Tiffany Betz said they can expect to be challenged and inspired in equal parts. "I would tell them it's a lot of work," said Betz, a part-time MBA student who is also the web content specialist for the American Institute for Foreign Study in Stamford. "You have to learn a lot about a lot of things before you can even understand where to start, but it was really rewarding. I feel like I've learned so much."
"What impressed me is how well you took Watson and applied it to the problem," Stephen Gold, worldwide marketing director for IBM's Watson Solutions, told the students. "What you've picked up here are the subtleties of how Watson could be used." The students made their final presentations to IBM Management in the Stamford Learning Accelerator and provided white papers to IBM officials to share with others at the corporation as they determine what's next for Watson.
"Real-World" Immersion
The SS&C Technologies Financial Accelerator and Stamford Learning Accelerator are among several experiential learning facilities run by the UConn School of Business across the state. In each center, UConn blends its constantly updated business curricula with projects intended to immerse students in real-world experiences. For the Connecticut community, the results range from job creation to economic sustainability.