This article first appeared in the UConn Business magazine, Volume 3, Issue 2 (Spring 2013)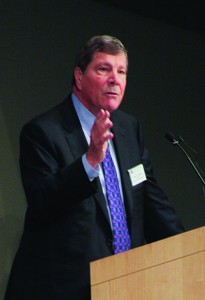 The UConn School of Business is continuing to grow and improve. The changes are pervasive. In this issue of UConn Business we feature only a sample of the many wonderful and exciting things taking place within the School.
Our Ph.D. program just celebrated its 25th year and our EMBA program just celebrated 20 years. The Ph.D. program is experiencing high graduation rates and students are earning employment at very reputable institutions. Our EMBA program was recently reviewed by a distinguished task force and input from students, faculty, staff, alumni and employers has justified new initiatives to make a strong program even better. Our MS in Accounting program was recently ranked 8th nationally among online graduate programs by U.S. News & World Report.
New programs are filling important needs as students join our new MS in Financial Risk Management and our new MS in Business Analytics and Project Management. Both programs have attracted strong students who face myriad career opportunities in these important growth areas. Both programs are distinctive and innovative and have grown from promising ideas to thriving programs in just a few short years.
In November we hosted our first annual Risk Management conference in Stamford where more than 165 risk management and regulation professionals, faculty members, and graduate students gathered to discuss new challenges and opportunities in this ever evolving field. Our campus in downtown Hartford, under new leadership, is on the cusp of significant program expansion in the coming months.
As we move forward the one constant will be ongoing change. We are launching a new BS in Financial Management linked to security analysis and the CFA exam in Stamford this fall. Additional undergraduate initiatives are underway in global business and digital media. A task force is presently reviewing the entire undergraduate program for the first time in decades and will examine not only the curriculum but co-curricular and extracurricular aspects of student life as well. Another task force is conducting a similar review of the full-time MBA program. This focus on innovation and continuous improvement is ultimately what drives and supports our success.
At a time when many public institutions are reducing their faculty we are in the enviable position of being able to hire. We are attracting strong candidates across all areas at both the novice and more senior levels. I am delighted that so many talented teachers and scholars are choosing to join us.
While the freshman applicants have not all chosen their ultimate destination, the news to date is very good. In the School of Business, our offers of admission to highly qualified candidates are running about 16% above last year at this time. Hang on, it promises to be an exciting year.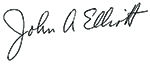 John A. Elliott
Dean