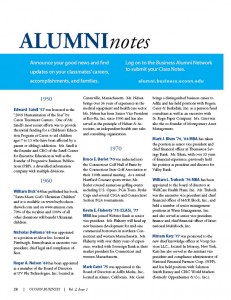 This article first appeared in the UConn Business magazine, Volume 2, Issue 1 (Fall 2010)
Announce your good news and find updates on your classmates' careers, accomplishments, and families. Log on to theBusiness Alumni Network to submit your Class Notes.
1950
Edward Satell '57 was honored as the "2009 Humanitarian of the Year" by Caron Treatment Centers. One of Mr. Satell's most recent efforts was to provide the initial funding for a Children's Education Program at Caron to aid children ages 7 to 15 who have been  affected by a parent or sibling's addiction. Mr. Satell is the founder and CEO of the Satell  Center for Executive Education as well as the founder of Progressive Business Publications (PBP), a diversified information company with multiple divisions.
1960
William Dick '64 has published his book, "Santa Meets God's Ukrainian Children" and it is available on www.buybooksontheweb.com and on www.amazon.com. 70% of the royalties and 100% of all other donations will benefit Ukrainian children.
Nicholas DeRoma '68 was appointed to a position at Alcoa Inc. located in Pittsburgh, Pennsylvania as executive vice president, chief legal and compliance officer.
Roger A. Nelsen '69 has been appointed as a member of the Board of Directors at UV Flu Technologies, Inc. located in Centerville, Massachusetts. Mr. Nelsen brings over 36 years of experience in the medical equipment and health care sector. Mr. Nelsen has been Senior Vice President at Eco-Rx, Inc. since 1996 and has also served as the principle of Nelsen & Associates, an independent health care sales and consulting organization.
1970
Bruce E. Berlet '70 was inducted into the Connecticut Golf Hall of Fame by the Connecticut State Golf Association at their 110th annual meeting. As a retired Hartford Courant sports writer, Mr. Berlet covered numerous golfing events including U.S. Opens, PGA Tours, Ryder Cups and several CSGA and Connecticut Section PGA tournaments.
Kevin E. Flaherty '75 (CLAS), '77 MBA has joined Webster Bank as senior vice president. Mr. Flaherty will head up new business development for mid-size commercial borrowers in northern Connecticut and western Massachusetts. Mr. Flaherty, with over thirty years of experience, worked with Sovereign Bank as their market president for Connecticut and
western Massachusetts.
Mark Geist '75 was appointed to the Board of Directors at AdEx Media, Inc., located in Alamo, California. Mr. Geist brings a distinguished business career to AdEx and has held positions with Rogers, Casey & Barksdale, Inc. as a pension fund consultant as well as an executive with St. Regis Paper Company. Mr. Geist was also the co-founder of Montgomery Asset Management.
Mark J. Blum '76, '84 MBA has taken the position as senior vice president and chief financial officer at Thomaston Savings Bank. Mr. Blum, with over 33 years of financial experience, previously held his position as president and director for Valley Bank.
William L. Trubeck '76 MBA has been appointed to the board of directors at WellCare Health Plans, Inc. Mr. Trubeck was the executive vice president and chief financial officer of H&R Block, Inc., and held a number of senior management positions at Waste Management, Inc. and also served as senior vice president, finance and chief financial  officer of International Multifoods, Inc.
Miriam Katz '77 was promoted to the new chief knowledge officer at Vcorp Services LLC., located In Monsey, New York. Katz has also served as the assistant vice president and compliance administrator of National Financial Partners Corp. (NFP), and has held positions with Salomon Smith Barney and CIBC World Markets (formerly Oppenheimer & Co., Inc.). Vcorp offers an extensive suite of services including entity formations, formation services, supplemental filings, document retrieval, tax- exempt filings, UCC filings and searches, trademark applications, and more.
Raymond J. Martino '77 (CLAS), '81 MBA has been elected to the Board of Directors at Worker's Credit Union of Fitchburg. Currently Mr. Martino is president and CEO of Simonds Internation of Fitchburg.
Charles Scoville, Jr. '77 is joining dat-Avail Corporation as managing director of sales. Mr. Scoville, with twenty-nine years of experience, comes from Marketsphere Consulting and will lead the Southern region sales team for datAvail. datAvail Corporation provides remote database management services for companies with Oracle, Oracle E-Business, MySQL, and SQL Server databases.
Clarence J. Silvia '77 (CLAS), '79 MBA has been promoted to president and chief executive officer of The Hospital of Central Connecticut and president of the Central Connecticut Health Alliance. Most recently Mr. Silvia was senior vice president and chief  operating officer of CCHA and the hospital. Prior to that, he was president and chief  executive officer of Bradley Memorial Hospital.
Ellen M. Rizzo '78, '84 MBA has joined Hanover Insurance Group as chief financial officer, property and casualty companies. In her new role, Ms. Rizzo will be responsible for financial oversight of The Hanover's personal lines, commercial lines and claims organizations. Most recently Ms. Rizzo was the senior vice president and chief financial officer at Travelers Companies.
Erwin Vahlsing, Jr. '78 was appointed as chief financial officer at Sungro Minerals Inc., located in Surrey, British Columbia, Canada. Mr. Vahlsing is an executive with extensive operational experience; including both domestic and international background in leading and managing finance departments in the manufacturing, service, and construction industries for various public companies. With over ten years SEC reporting experience both as CFO and as a consultant, Mr. Vahlsing has dealt with all aspects of compliance
and reporting, as well as being the interface with external auditors, legal counsel, and shareholders.
1980
Michael L. Alberts '80 (CLAS), '87 MBA is the new vice president and commercial relationship manager at Simsbury Bank. Mr. Alberts has held positions such as senior vice president, senior commercial loan officer, vice president, and principal with companies such as Putnam Bank, Savings Institute Bank & Trust Co.,Woodstock Financial Group, and Fleet Bank.
Thomas Shimko '80 has joined Direct Marketing Association as senior vice president and chief marketing officer. Mr. Shimko has over 25 years of global marketing experience in business management, marketing, and strategy. Most recently Mr. Shimko was vice president of strategies marketing for GE Capital's equipment financial services business as well as chief marketing officer for Danbury Health Systems.
Frank J. Minerva '81 MBA was promoted to chief operating officer at UBS in their ultra-high-net worth business in the United States. Most recently, Mr. Minerva, a 21-year UBS veteran, led the New York office of Private Wealth Management at UBS.
Deborah Fuhr '82 is now the global head of ETF research and implementation strategy at Barclays Global Investors. Ms. Fuhr left Morgan Stanley after eleven years when the bank closed down her team in the summer of 2008, and then her new employer was put up for sale by its parent, Barclays PLC. Through it all, Ms. Fuhr has remained the No. 1 authority
on the exchange-traded fund landscape, an area into which banks and asset managers are keen to expand as investors seek liquid products with greater transparency. Ms. Fuhr is based in London but works with clients across Europe, the U.S. and emerging markets.
Kenneth Murphy '82 has accepted a position at Connecticut College located in New London, Connecticut, as the men's soccer head coach. Mr. Murphy comes to Connecticut College from Brown University as the assistant soccer coach. Previously Mr. Murphy spent sixteen years on Wall Street as a successful commodities broker.
Nicholas P. Randazzo '82 has been promoted to vice president of sales at PHT  Corporation, the leading provider of electronic patient reported outcome solutions. Mr. Randazzo has been employed at PHT since 2000 and was the company's leading account executive for several years. In 2005, Mr. Randazzo took on a leadership role with the PHT sales organization where he managed the entire global sales team.
Michael T. Sheahan, Jr. '82 has been appointed to vice president and mortgage & consumer loan department head at Simsbury Bank in Simsbury, Connecticut. Mr. Sheahan will lead the bank's mortgage and consumer lending sales and service including and origination, underwriting and processing and compliance. Most recently, Mr. Sheahan was employed at Webster Financial as mortgage lending division head and prior to that had a long career in mortgage and consumer financial services and online services with
Shawmut Bank, Meca Software, and Centerbank Mortgage.
Mickey S. Goldwasser '83 was appointed to senior vice president of marketing, communication and public relations activities for Continuity Engine located in New Haven, Connecticut. Mr. Goldwasser was most recently the vice president of product marketing at Eclipsys Corporation. Mr. Goldwasser is also a member of the UConn School of Business Marketing Advisory Board.
Robert D. O'Connor '83 MBA was appointed to president and chief executive officer at  Loftware, Inc. located in Portsmouth, New Hampshire. Mr. O'Connor joins Loftware from Softrax Corporation where he served as president and chief executive officer.
Deborah M. Murphy '84 was promoted to a newly created role at Zebra Technologies Corporation as vice president of market channel development, specialty printing solutions. Ms. Murphy has been with Zebra Technologies for 14 years and has held many marketing roles within Specialty Printing Solutions, including the formation and development of Zebra's burgeoning global healthcare business.
Michael P. Palermo '84 has been elected to a 10-year term on the Board of Directors at Millbury Savings Bank in Millbury, Massachusetts. Mr. Palermo previously served as vice president, director of sales, for The Boston Company Asset Management LLC.
James P. Hammel '85 was selected as the UConn School of Business Finance Alum of the Year and was recognized at the Finance Department's award ceremony on April 12th. Mr. Hammel has demonstrated outstanding leadership during his tenure as a member of the School's Financial Accelerator Advisory Board and has provided very strong support of
special events organized by the board.
Ronald Brault '86 MBA has joined Financial Strategies Investment Advisor Services, LLP in Bethel, Connecticut, as a partner. Mr. Brault brings more than twenty years of experience in portfolio management, investment consulting and client service to the firm and will concentrate on financial planning and investment consulting for the firm's clients. Prior to joining Financial Strategies Investment Advisor Services, Mr. Brault has worked at companies such as Alliance Bernstein, Dreyfus Management, and Morgan Stanley in positions including senior vice president, senior portfolio manager, and vice president.
David Brigham '86 has been promoted to CEO at the Pennsylvania Academy of Fine Arts, which has been named a new leader in major arts-and-cultural organizations. Mr. Brigham joined the Pennsylvania Academy of Fine Arts in October of 2007. Prior to that he was a director of collections and exhibitions as well as curator of American art at the Worcester Art Museum in Massachusetts and helped to transform the Allentown art Museum in Pennsylvania.
Regina Foley '86 was appointed to chief compliance officer, chief financial officer, treasurer, and secretary of the Taiwan Greater China Fund. Ms. Foley has over twenty years of experience in accounting and finance industries and has worked for both financial services and reinsurance companies. Ms. Foley also has extensive experience in creating and administering internal controls in accounting processes and operations.
Daniel D. Toscano '87 has joined Morgan Stanley as co-head of global leveraged and acquisition finance. In his previous employment, Mr. Toscano was the cohead of leveraged and acquisition finance in the Americas at HSBC Holdings PLC and also has worked in leveraged finance at Deutsche Bank AG and Bankers Trust Co. for almost 16 years.
Dominick A. Musilli Jr. '89, '94 MBA has been named the executive vice president and principal of RHYS Commercial, a real estate advisory firm located in Stamford, Connecticut. Mr. Musilli will serve on the company's senior management team as well. With 18 years of industry experience, Mr. Musilli has held positions as executive managing director and partner at FirstService Real Estate Advisors.
1990
Claude (Tate) George '90, president and CEO of George Group, LLC, took part in a NAACP Economic Summit as the keynote speaker. This summit discussed topics such as how to bring black-owned banks, hotels, developers and other major enterprises to the New Haven area as well as a multiyear plan for recovery in the area.
Steven J. Peeters '90 has joined the Main Street America Group as vice president, commercial lines product. Mr. Peeters will be a member of Main Street America's senior management team and will be responsible for all product development, underwriting standards, pricing processes and compliance for the company. Mr. Peeters previously held the title of president and chief operating officer of Zurich Insurance service in Jacksonville, Florida.
James P. O'Meara '92, '00 MBA has been named as the vice president, commercial banking chief of staff at Webster Bank based out of Hartford. Mr. O'Meara also held a leadership role in Webster's expansion into Boston in December of 2009.
Evelyn A. Graham '93 has been appointed to the Board of Directors at CalciMedica
located in La Jolla, California. CalciMedica is a biotechnology company focused on developing innovative therapeutics for the treatment of autoimmune and inflammatory diseases.
Stephen C. Swett '93 MBA accepted a position at Morgan Keegan located in New York City as senior equity analyst. Morgan Keegan & Company Inc., one of the nation's largest regional full-service brokerage and investment banking firms, is the securities brokerage arm of Regions Financial Corporation. Mr. Swett was formerly the senior vice president at
Keefe, Bruyette & Woods Inc. in New York City.
Christopher L. Ayers '96 MBA was named as executive vice president and chief operating officer for Alcoa Inc.'s Global Primary Products business. Prior to joining Aloca, Mr. Ayers was the president of the forgings division of Precision Castparts Corporation and also held
positions with United Technologies Corporation and later joined PCC Airfoils, Inc. where he was the vice president and general manager of facilities.
Jamelle Elliott '96, '98 (ED) was appointed to a position at the University of Cincinnati as the Women's Basketball Coach. Ms. Elliot is a former UConn assistant coach as well as a player.
Huasong S. Shen '97 MBA has been appointed as the vice president of finance at Sino Green Land Corporation in China. Sino Green Land Corporation is a leading distributor of high-end fruits and vegetables in China. Ms. Shen has had extensive experience at many financial institutions including, Deloitte & Touch LLP, UBS Warburg, and JPMorgan Chase.
Steven Williams '97 MBA accepted a position at American Realty Capital Trust Inc. located in New York, New York as senior vice president and sales manager for the western division. Mr. Williams has over 18 years of experience and has previously worked at KBS Capital Markets Group as regional vice president.
Vincent Calabrese, Jr. '98 MBA was promoted to chief financial officer of F.N.B.  Corporation located in Hermitage, Pennsylvania. Mr. Calabrese brings over twenty-one years of experience in the financial industry and was previously senior vice president, corporate controller and principal accounting officer at F.N.B. Corporation. F.N.B. Corporation is a financial service company and a leading provider of commercial and retail banking, leasing, wealth management, insurance, merchant banking and consumer
finance services.
Jonathan Zupnik '98 accepted a position at On Corp US, Inc. located in San Diego, CA as vice president of sales and merchandising. Previous to this position, Jonathan was employed at Sears Holding Corporation as Divisional Merchandise Manager TV/Audio/Video.
Rodney A. Butler '99 was named the new chairman of the Mashantucket Pequot Tribal Council. Mr. Butler was elected into the tribe as the treasurer before becoming chairman and prior to that worked as a financial analyst at Foxwoods. Mr. Butler is also a trustee of
the Sea Research Foundation, the Mystic Aquarium and Institute for Exploration's nonprofit parent.
Paul Giardina '99 MBA has been named as the chief executive officer at Protegrity Corporation in Stamford, Connecticut. Mr. Giardina joined Protegrity in 2004 serving as senior vice president overseeing marketing, product management, research and development. Protegrity Corporation is a leading provider of Data SecurityManagement Solutions.
Rino C. Nori, Jr. '99 has joined Alvarez & Marsal's Equity Services Transaction Advisory Group as a senior director in New York. Mr. Nori has over nine years of transaction experience and has provided financial due diligence services to private equity and corporate clients on over 150 merger/acquisition transactions. Prior to joining Alvarez & Marsal , Mr. Nori was with the Transaction Services unit of PricewaterhouseCoopers in New York.
John F. Reilly '99 MBA has been appointed to vice president of corporate finance and treasurer at The Hanover Insurance Group Inc. located in Worcester, Massachusetts. The Hanover Insurance Group, Inc. is ranked among the top 40 property and casualty insurers in the United States and offers a wide range of property and casualty products. Prior to
joining Hanover Insurance Group Inc., Mr. Reilly was employed at The Hartford Financial Services group where he served in senior-level positions in investor relations, finance and business development.
John R. Riley '99 MBA accepted a position with First Republic Bank in Boston, Massachusetts as managing director of foreign exchange. Mr. Riley has over twenty years of banking and currency risk advisory experience and will help manage the foreign exchange needs of clients in New England and New York.
Jayme Staron '99 and Angela (Talcik) Staron '96 (CLAS), '00 (ED), welcomed twins Nathaniel Jude and Adam Michael on March 16, 2009. The family lives in Shelton, Connecticut.
2000
Nykesha Sales, '00, a former University of Connecticut women's basketball standout, was selected as Philanthropist of the Year at The Hartford Golf Club. Sales, known for her moves on the court, was cited for her selfless efforts on behalf of women and girls by being involved in myriad programs and activities, including Read To Achieve and for her Nykesha Sales Celebrity Golf Tournament, which benefits the Aurora Club.
John Tarantino '00, '05 MBA participated in the 114th Boston Marathon on April 19th, 2010. He ran as part of the Dana-Farber Marathon Challenge (DFMC) Team. The DFMC raises funds for the Claudia Adams Barr Program in Innovative Basic Cancer Research at Dana-Farber Cancer Institute. Christopher Jarvis '01 MBA is the vice president of the Autism Society of New Hampshire. Mr. Jarvis plays on the Merrimack Dodgers, a team in the Granite State Baseball League.
Robin L. Knowles '01, '10 Ph.D. has successfully defended her dissertation titled, "Defined Benefit Pension Sponsors & Market Prices: Early evidence from Pension Accounting Reform". Dr. Knowles has accepted a faculty position at Texas State University in San Marcos.
Adrienne D. Cerulo '03, '04 MSA, '06 MBA has begun a position at Longroad Asset Management, LLC as a controller. Ms. Cerulo has held positions such as corporate accountant at Weston Capital Management as well as positions with Sageview Capital and UBS.
Frank Carmon IV '06 MBA accepted the Small Business Administration's 2009 Jeffrey Butland Family-Owned Business of the Year award for Connecticut in honor of his 63-year-old family-owned company that manages nine funeral homes and a crematory, Carmon Community Funeral Homes. This award honors a family-owned and operated business which has been passed from one generation to another, demonstrating long-term business success and increased employment for family and non family members.
Nicholas Roy '06 created a financial planning company geared toward the needs of individual investors, Somnio Financial Group in Glastonbury, Connecticut. Somnio Financial Group provides tailored financial planning and ongoing advice to their clients to help them meet their wealth goals. Previously, Mr. Roy was employed at Ameriprise Financial as a financial advisor.
Bill Coolahan '07 MSA received his CPA license. Mr. Coolahan passed all four parts of the CPA Exam in a six month period earlier in 2009. He works at Sikorsky Aircraft in Stratford, Connecticut, pricing and negotiating proposals with the U.S. Government.
Julie Peck '07 launched Peck Place Consulting located in Danbury, Connecticut. After 20 years of working in Fortune 500 companies, Julie has taken the entrepreneurial plunge and opened her own marketing and business strategy consulting firm serving the B2B community.
Khash Sarrafi '07 MBA is the managing partner at Castle Rock innovations, LLC in Ellington, Connecticut. His company has been recognized in INC500 as one of the fastest growing private companies. Brett W. Eagleson '08 has joined O, R, & L Commercial in their brokerage division as a commercial real estate broker. Mr. Eagleson joined O, R, & L in June of 2008 after his graduation in the finance department as an assistant controller.
Morris K. George '08 Ph.D. was awarded the 2010 Davidson Award for best article in the Journal of Retailing 2008 for the article, titled, "Cross-buying in Retailing: Drivers and Consequences". The William R. Davidson Award is given annually to authors of the leading articles in the field of retail marketing that are published in the Journal of Retailing. Dr. George is currently a marketing professor in Baylor University's Hankamer School of Business.
Merim (Djumalieva) Crossley '09 MBA has joined Covidien Surgical in the Soft Tissue Implants franchise as a global marketing analyst.
Ciaran B. Heavey '09 successfully defended his dissertation titled "A Dynamic Managerial Capabilities Model of Organizational Ambidexterity". Dr. Heavey is currently a lecturer at Smurfit Graduate Business School at University College Dublin in Dublin, Ireland.
Tricia A. Hyacinth '09 MBA has taken a position with Hands On Hartford, located in Hartford, Connecticut as an engagement project manager on the community engagement team. Hands On Hartford is a Hartford-based volunteer action center and social services agency. Prior to Hands On Hartford, Ms. Hyacinth was co-founder and manager of sales  and marketing at LinuxGenius, LLC.
Linda Kolbasovsky '09 Ph.D. successfully defended her dissertation titled, "The Trade-off between Risk Management and Earnings Volatility: Evidence from Restatements". Dr. Kolbasovsky will become faculty at the University of North Carolina, Greensborough.
Rajeev Kumar '09 Ph.D. defended his dissertation titled, "Hiding in Plain Sight: Anonymity and Privacy Preserving Mechanisms for Data Collection and Collaboration". Dr. Kumar is now an Assistant Professor at Kutztown University in Pennsylvania.
Favien S. Feshazion '10 and Barbara F. Williams '10 won 1st place in the National Black MBA Association – West Chester/Greater Connecticut Chapter's Business Case Competition.
Ioannis Kareklas '10 Ph.D. successfully defended his dissertation titled, "A Quantitative
Review and Extension of Racial Similarity Effects in Advertising". Dr. Kareklas will join the faculty at Washington State University as an assistant professor of marketing.
For more Alumni Class Notes, please visit alumni.business.uconn.edu.