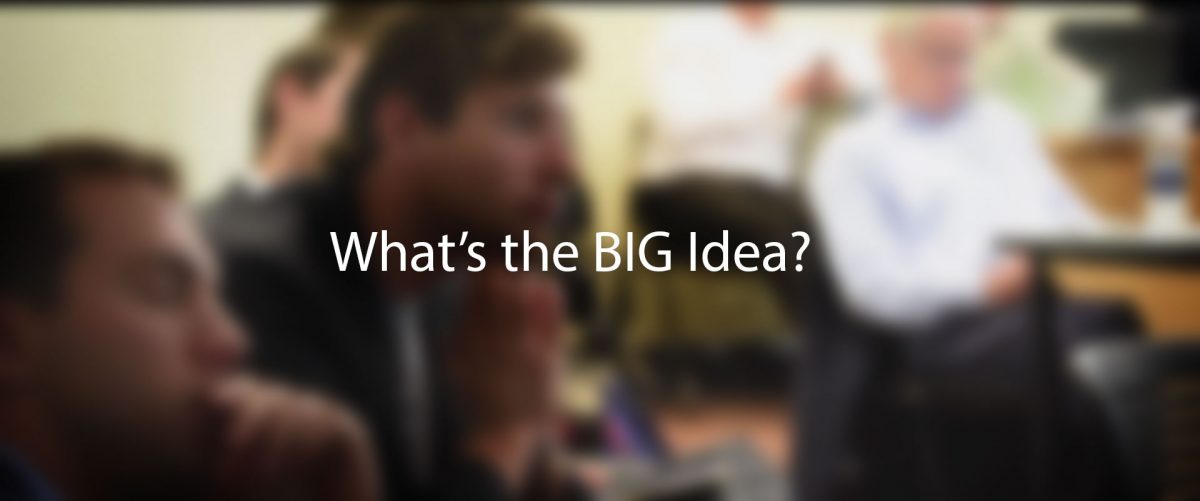 What's the Big Idea?
Six Finalists from UConn's 'Innovation Quest' Impress Angel Investors
August 2015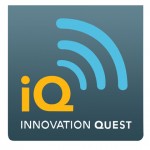 You might also be interested in:
Kyle Mahoney '18 just finished his freshman year at UConn, but already he has created a therapeutic massage device that he believes will be a retail blockbuster.
Mahoney and his business partner, Chris Brown '15, were among six teams recognized as the best entrepreneurial ventures in UConn's highly competitive Innovation Quest. On June 19, they presented their ideas and prototypes to more than a dozen angel investors, who will now track their products' development and potentially fund their companies.
"I always knew I was going to be an entrepreneur," said Mahoney, an exercise science major. "I've never wanted to work for someone else. My parents own a small business and I've grown up watching them. Since I've been in this competition and developed this idea, I know this is where I'm going. I'm going to own a fitness equipment company."
People this age are creative, energetic and enthusiastic. They've got a lot of ideas.
- Nat Brinn

Nat Brinn, a partner in Vital Venture Capital of Bethesda, Maryland, said he was impressed by all the finalists.
"There are several that can develop companies that are venture fundable today, and I think all of them ultimately could get funding," he said, adding that he plans to keep in touch with all of them.
Entrepreneurship seems to be gaining popularity with these students, more so than with their parents, Brinn added.
"People this age are creative, energetic and enthusiastic. They've got a lot of ideas," he said. "They can do a lot of things in life, and in business." Brinn, who hears some 500 pitches a year, said the UConn presenters were among the most prepared and most professional.
Innovation Quest (iQ) is a university-wide competition and startup incubator to help student entrepreneurs build their own companies. The program is supported by alumni mentors who work closely with participants in the early stages of development, as well as later, in the more selective Summer InQbator Boot Camp. The program started with 200 teams in February, and whittled down to the final six in June.
These six teams were prodded, challenged and forced to prove that they had a strong level of commitment.
- Rich Dino

Keith R. Fox '80, a longtime entrepreneur, executive and philanthropist, learned of iQ's success at Cal Poly and brought it to UConn four years ago. Today, Fox is a program mentor and financial supporter.
"We were tough on you. I hope you realize why," Fox said via Skype to the finalists. "I can't say enough about how proud I am of all of you. Clearly you've come a long way and it's your journey now to continue on."
Management professor Rich Dino, who is the director of the iQ program at UConn, and who teaches an introductory entrepreneurship course, said the talent of the UConn students is awe-inspiring.
"These six teams were prodded, challenged and forced to prove that they had a strong level of commitment," Dino said. "I think they will all find great success."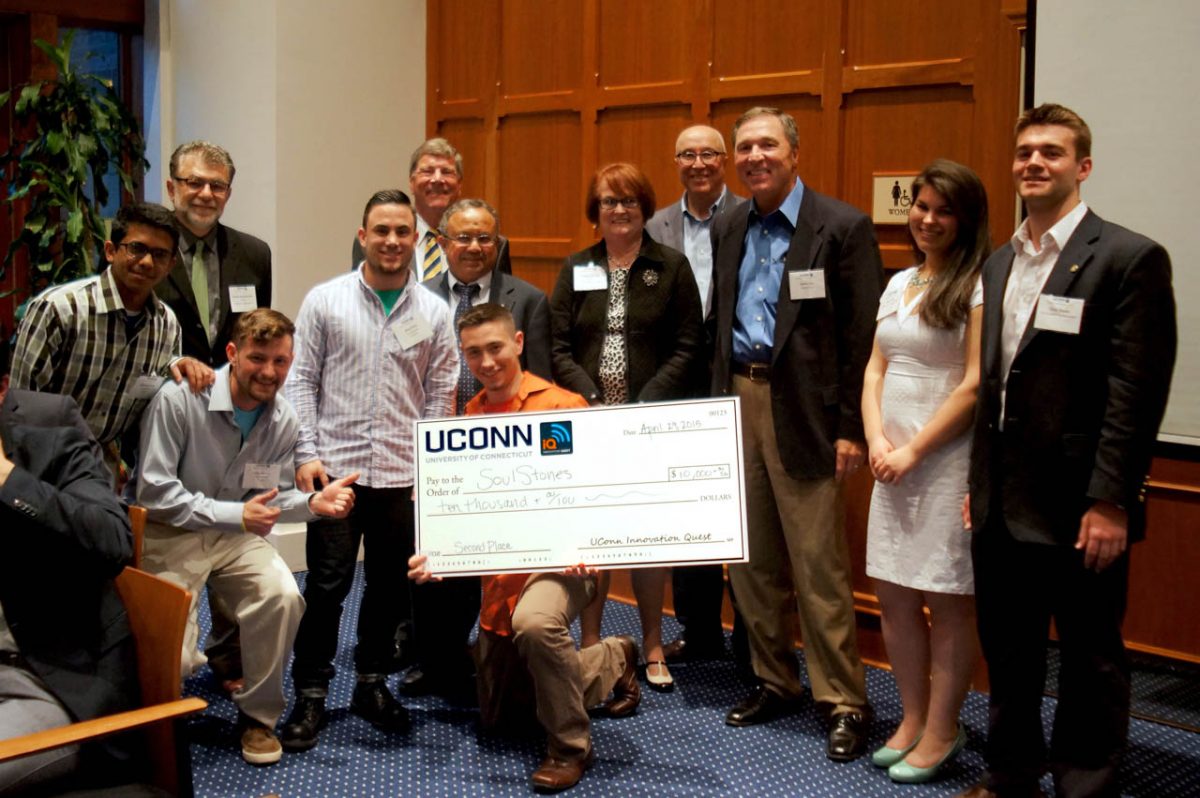 Joe DeMartino, managing director of Angel Investor Forum of East Hartford, has attended the iQ finale at UConn for the last four years.
"We invest in early stage companies and are always interested in finding up-and-coming companies," adding that he is particularly interested in EyeCaptcha and Parrot MD.
"One thing that's a constant in this early stage is change. The team has to be willing to stick with it and be open to advice," he said. His advice to all inventors is to surround themselves with good advisers and really listen to what they have to say.
"These students have done their homework. I see good, solid business opportunities coming out of here," DeMartino said. "It's a very interesting program to watch develop over the years."
David Menard, a partner in the law firm Murtha Cullina of Hartford, volunteered his time to offer legal advice to the participants, this year, as he has for the previous two.
"I have a passion for entrepreneurship and a passion for young companies trying to get started," he said. "This program takes a year's worth of learning and stuffs it into six weeks. I can't help but tear up. It makes me inspired to see them."
Mahoney, the investor of the home therapeutic massage device, found his inspiration as a pitcher on the baseball team at Barnstable High School in Hyannis, Mass. He wanted to augment the professional physical therapy he received to eliminate muscle knots and maximize his performance but was unable to find something on the market, so he used a golf ball to reach small muscles in his arm. The 360 Performance Technologies massage device he and Brown developed adheres to the wall for ease of use and has no direct competition, he said. They plan to market it first to athletes and later to the general public. The investors thought the $50 market price would be well received.
Mahoney said partnering with Brown, who earned his bachelor's degree in finance in May, was one of the best decisions he made because Brown brought expertise in many different areas.
Theo Marrinan, a junior majoring in economics and Mandarin, has developed a picture-based security system, for the internet to replace the italic, often-difficult to decipher, code that people use to obtain concert tickets and make other online purchases. His EyeCaptcha invention is more secure and user friendly than the current options and offers the advantage of drawing in advertising revenue. He is working with a team of developers now and has started prototyping.
"This was an incredibly helpful program," he said of iQ. "The network alone is invaluable. In these early stages, it's really hard. You have all these crazy ideas that you're sprouting. The mentors help refine your idea and your company, and make it much stronger."
Marrinan recalls enrolling in the entrepreneurial class called "Gaining Competitive Advantage" and realizing that his dream could become a reality. The course was offered at night, the room was packed and stuffy. "When the professor started talking, you could hear a pin drop," he said. "You could see the future being built in that classroom. We were all enraptured in that moment. It was a powerful experience."
Mia Forte '16 (ENG), the student ambassador to iQ and a senior engineering student, said she enjoyed seeing ideas grow and become more sophisticated based on adviser feedback. She may enter the competition next year.
"I think iQ has to be one of the most exciting things I've been lucky enough to experience at UConn so far. The networking opportunities are incredible," she said, noting the vast number of experts—from lawyers to other entrepreneurs to faculty members—have donated their time to help the students succeed. "It has been so cool to see, because you get to watch those relationships grow, and witness the passion on both sides."
Matt Cremins '13 (ENG), '14 MS, a graduate of UConn's engineering program, participated in iQ in 2013. His company, Voda, is preparing to bring its Smart Well environmentally friendly-beverage distribution service to the market this fall. The custom-beverage dispenser is being dubbed the "next generation water cooler.'' The iQ program made his vision come to life, Cremins said, and he is excited to see that happen for others.
"I think the program is growing greatly in terms the quality of applicants. The teams are fantastic, and the Connecticut investor community is aware that there are great ideas coming out of UConn," Cremins said.
The following teams were the 2015 UConn Innovation Quest winners:
First Place
Autobeacon, the creation of Daniel Dvoskin '16 and Adam Lefkowitz '16, won first place and the $15,000 Auran J. Fox Award. Autobeacon is a monitoring and "parent alert" system that addresses irresponsible teen driving.
Second Place
SoulStones, a gaming platform that helps users discover aspects of their personality and connect with others, won second place and a $10,000 prize. Project members included: Zachary Maitland, Ektadar Alam, Arina Santangelo, Christopher Nunez, Aaron Mednick '18 and Nick Ortiz. 
Third Place
EyeCaptcha, an image-based internet-user authentication tool that enhances security on the internet, won third place and a $5,000 award. It is the brainchild of Theodore "Theo" Marrinan.
Judges Special
StoryLine, a customizable, interlocking, wall-mounted photo display, captured the Judges Special, a $5,000 award. The StoryLine team includes: Rosse Gates '16 (ENG), Ashlesha Dhuri '16 (CLAS), Gazment Sosoli '16 (ENG) and Caleb Gates '16 (ENG).
Top Finalists
Parrot MD, a personal recording device designed to assist illiterate patients with the proper dosing of medication, was also a top finalist. The device was developed by Steven Graf '15 and Charles Fayal  '15 (ENG) after Graf discovered the pervasive problem while on a medical mission trip.
A portable, home therapeutic massage device for athletes and others, created by the 360 Performance Technologies team of Kyle Mahoney '18 and Chris Brown '15, also finished among the top inventions in the competition.