Work Becomes Easier When You Get to the Top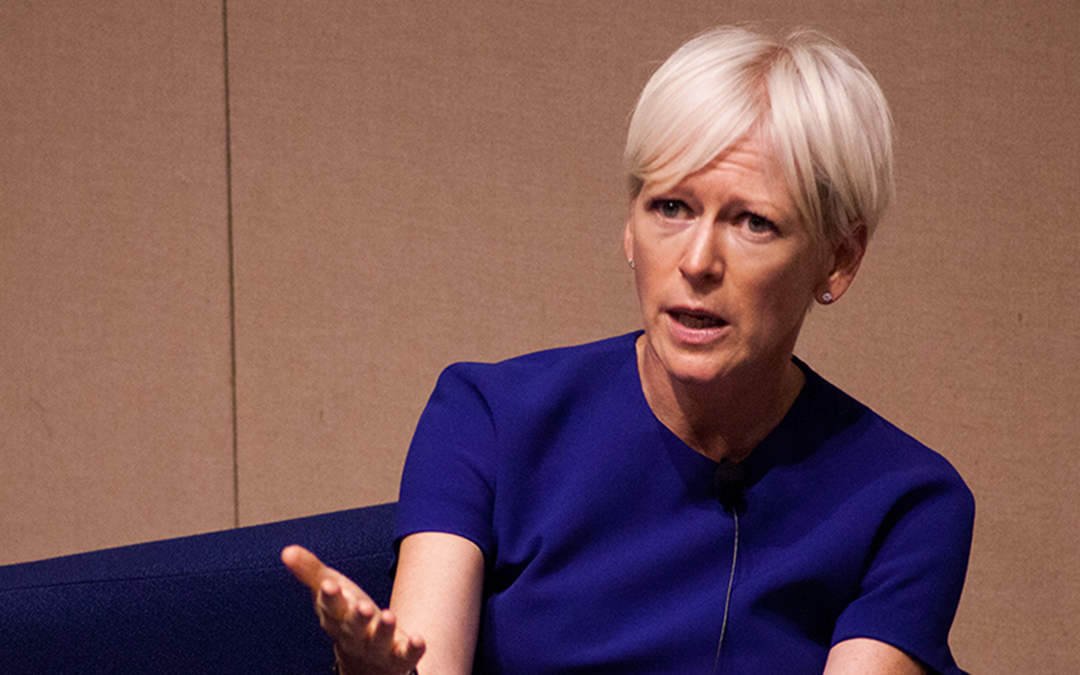 You may also be interested in:
MasterCard Worldwide Champions Women at Work
MasterCard Worldwide, the recent platinum sponsor of UConn's third annual Women Entrepreneurs Empowerment Forum, has been a long-time champion of women in the workplace. In addition to offering a powerful mentoring program to help women advance up the career ladder within its own company, MasterCard also monitors gender issues around the globe. Full Article
How do I ask for a raise?
That's one of the most common questions that the editors of Cosmopolitan magazine are asked every year, said Editor-in-Chief Joanna Coles.
Coles, who since 2012 has led the world's largest women's magazine, with 18 million readers in the U.S. alone, regaled some 300 women with stories of career and life, at the third annual Women Entrepreneurs Empowerment Forum on Sept. 18. The event was presented by Platinum Sponsor MasterCard and hosted by the UConn School of Business at UConn Stamford.
The program featured an introduction by Connecticut Gov. Dannel Malloy and was moderated by UConn President Susan Herbst. In addition, dozens of experts offered women advice on everything from accessing capital to identifying their target audience.
Coles' 40-minute presentation covered everything from politics ("I enjoyed Carly Fiorina's takedown of Donald Trump") to contraception ("These aren't just women's issues. Men don't want women to have babies every time they have sex with them!") to pressures that teens experience ("Sex education in this country is really bad. A lot of what kids understand comes from watching porn on a cell phone.")
But the majority of her informal conversation with Herbst centered on women and their careers. She said her appointment to Cosmopolitan coincided with the death of Helen Gurley Brown, who took over Cosmo in 1965 with the advent of the birth control pill and the consequent and enormous social shift that occurred. She said an equally large change is taking place for women in the workplace today as young women look to on leadership roles in greater numbers. This, she said, is a generation of women who demand equal pay for equal work.
"I want every woman to know that the more seniority I got the easier it became."
– Joanna Coles, Cosmopolitan
Herbst said that when she recruits women employees they rarely counter her financial offer, but men typically do. Coles said women need to learn to negotiate, something they find difficult and that her magazine makes great efforts to teach. Moreover, she said, research shows that successful women in the workplace are considered 'less likeable' than their struggling sisters.
Many women become entrepreneurs in unexpected ways, Coles said. A woman may start out baking a favorite dish and launch it into a small catering business or she'll look after a friend's child and expand to run a child care center. "I think it is important to connect women and give them the services to help them take their businesses seriously," she said.
Her advice to women is that work becomes easier as they get closer to the top rung of the corporate ladder. She detailed how her work as a foreign correspondent became impossible after the birth of her second child. "I just couldn't run off on a whim anymore, so I moved from newspapers to magazines," she said.
"I want every woman to know that the more seniority I got the easier it became. When I was editor at Marie Claire I made my own schedule and I made more money. More 'senior executive' women have more money and more control over their day. It is actually easier with a big job."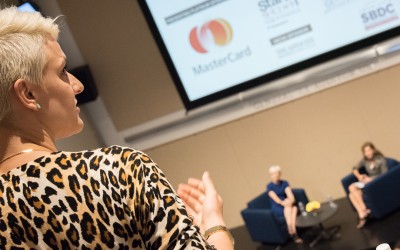 Herbst agreed, adding that when academic seminars got changed from 4 p.m. to noon, women were pleased because it was easier for them to attend.
Coles also said that companies need to address how to re-welcome women returning to the workforce after taking a career break to raise children. "If you take the 'off ramp' your earning capacity goes down significantly," she said. While companies need to address it on their end, she urged women to stay on top of technology and to nurture their connections during a career hiatus. "The corporate workplace doesn't work well for parents," she said. "It is troubling for men, for women and for our children."
In his introductory remarks, Malloy said the state's efforts to mandate sick days, and raise the minimum wage overwhelmingly impact women in a favorable way.
Forum participants were welcomed by Valarie Gelb, CEO of Gelb Global; Dr. Sharon White, director of the UConn Stamford campus; and Emily Carter, state director of the Connecticut Small Business Development Center. Numerous women-owned businesses also exhibited their merchandise or services.
In addition to the keynote luncheon, participants attended workshops on Equity, Debt and Crowdfunding featuring Smith, Deborah Jackson, Founder of Plum Alley, and Jeanne M. Sullivan, co-founder of StarVest Partners; Who Loves You Baby—Zeroing In on the Most Profitable Target for your Business, by Julie Cottineau, founder and CEO of BrandTwist; Digital and Social Media: From Influence to Intent with Jay Laurino, Digital Solutions Specialist with Hearst Media and Jeramiah Martin, Director of Digital Media for Hearst; and What Differentiates You and Your Business, presented by Stephanie V. Blackwell, founder and President of Connecticut-based Aurora Products.
Attendee Emilie Aries, the owner of a career enhancement company called Bossed Up, said the empowerment program is well aligned with her company's mission.
"We take a holistic approach that work, love and wellness are connected to sustainable success," she said. "What happens outside the office impacts a women's leadership track as she's trying to reach her full potential."
"We take a holistic approach that work, love and wellness are connected to sustainable success,"
– Emilie Aries, Bossed Up
Aries, who is the daughter of UConn alumni Kathy '80 BS (Nursing) and Richard Aries '82 BA (CLAS), '86 JD, said she was particularly pleased by the number of organizations giving women financial advice.
Michelle Sabino of Stamford attended the Forum and especially enjoyed the BrandTwist presentation, where she took home many useable ideas. Sabino, an office manager for a Norwalk company that is closing, said she is exploring career options and was very encouraged to know that Connecticut offers a great deal of help for new and existing businesses.
The Forum's Presenting Platinum Sponsor was MasterCard and the Silver Sponsor was Startup Grind Greenwich. Bronze sponsors included Coca-Cola, Conair Corp., Connecticut Innovations, Connecticut Small Business Development Center, First County Bank, Satin Smooth and Webster Bank. The media sponsor was Hearst Connecticut Media.