Stephen Fitzgerald
Instructor in-Residence
Operations and Information Management
---
Education/Professional Certifications
MA – University of Connecticut, Curriculum and Instruction

Certification areas: Business, Technology, and English

BS – University of Connecticut, Management Information Systems
Teaching Experience

IT Security, Governance, and Audit (OPIM 3777)
Operations Management (OPIM 3104)
Business Information Systems (OPIM 3103)
Spreadsheet Modeling for Business Analysis (OPIM 3803)
Interests

Advancing Education
IT Security
Information Management
Blockchain
Virtual Reality
Artificial Intelligence
Quantum Computing
Biography
Professor Fitzgerald is currently an Instructor In-Residence in the Operations and Information Management Department at the University of Connecticut.  Previously, he worked as a Learning and Development Consultant at Evisions, an Adjunct Professor at the University of Connecticut, and as a Risk Assurance professional at PwC.
During his time as a Learning and Development Consultant, he created curricula that encompassed developing managerial skills, driving your own learning, and how to have difficult conversations in a professional setting.    As an Adjunct Professor, Professor Fitzgerald developed a new curriculum for Advanced Business Application Development with Unity.  In addition, he taught Effective Business Writing while also creating and delivering four workshops for OPIM's Innovate covering the following topics: Artificial Intelligence, Blockchain, Virtual Reality, and How the Internet Works.  While working at PwC, Professor Fitzgerald planned and executed various audits across a variety of industries.  This work included Sarbanes Oxley, SOC1, and SOC2 audits, as well as other advisory audits and engagements.
Professor Fitzgerald is a staunch believer in the power of education.  Through his work at the University, Professor Fitzgerald hopes to help students discover and build the skills that they need to find success in their personal and professional lives.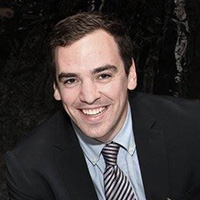 | | |
| --- | --- |
| Email | stephen.fitzgerald@uconn.edu |
| Campus | Storrs |
| Courses | IT Security, Governance, and Audit (OPIM 3777); Operations Management (OPIM 3104); Business Information Systems (OPIM 3103); Spreadsheet Modeling for Business Analysis (OPIM 3803) |
Download CV