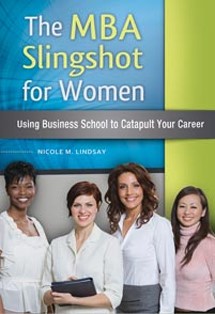 The UConn chapter of the National Association of Women MBAs is sponsoring a program titled, "Using Business School to Catapult Your Career," at 6 p.m. Sept. 30 at the UConn School of Business' Graduate Learning Center, 100 Constitution Plaza, Hartford.
Guest speaker is Nicole Lindsay '96, an award-winning author of "The MBA Slingshot for Women," director of leadership and development at the ZOOM Foundation, and founder of DiversityMBAPrep.com.
Lindsay describes herself as a "fanatical advocate" of MBA and graduate-management education. In her career, she has supported more than 1,000 pre-MBA and MBA students, mainly women and minorities, in their application process and subsequent careers. She said the application process can be overwhelming. Fourteen years after completing her business degree, Lindsay said she is still discouraged that the number of women and minorities in MBA programs has not significantly increased.
The keynote presentation and question and answer session will be at 6 p.m., followed by a networking program at 7 p.m. For additional information or to register, please contact Amanda Spada at aspada@business.uconn.edu or call (860) 486-5498.
Lindsay earned her Bachelor of Science in Business Administration from UConn, her law degree from the University of Virginia School of Law and her MBA from the University of Virginia's Darden School of Business.
She began her career in corporate- and community development- finance before becoming associate director of admissions and student affairs at the Yale School of Management, where she oversaw minority and women admissions and diversity student affairs. She later worked at Goldman Sachs, managing MBA recruiting initiatives at the Wharton School of Business at the University of Pennsylvania, and other prominent business programs. She later worked at Management Leadership for Tomorrow, in various roles including director of the MBA Prep program and as vice president of talent development. She then served as the founding executive director of New York Needs You (NYNY) and now is the director of leadership development for a family foundation in Connecticut.