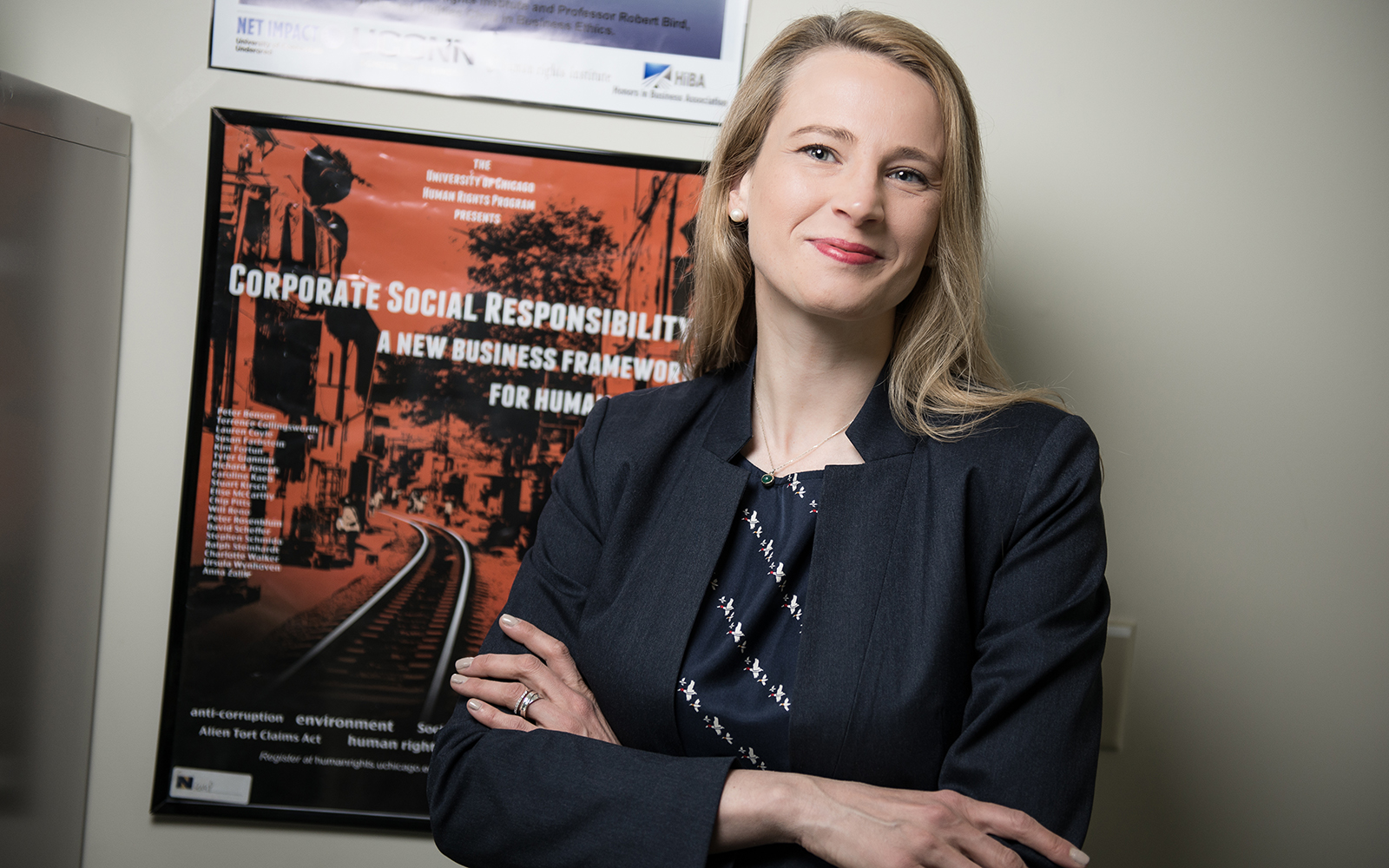 A Conversation with Business and Human Rights Professor Caroline Kaeb
An interest in international law, coupled with work at the United Nations specializing in labor rights and refugee issues, fostered a passion for human rights in UConn Professor Caroline Kaeb.
But as she delved deeper into her graduate work and the solutions to the many problems vexing the world, she had what she describes as an 'A-ha!' moment.
"I realized that while international diplomacy plays an important role in human rights, global businesses are also a huge 'actor' that impact many lives," she said. "With their power and resources, corporations are capable of promoting social good and human rights and, ultimately play a key role in addressing society's challenges."
"That led me to my career path in business and human rights, and while this is a relatively new field, I believe it will continue to expand and thrive," said Kaeb, who joined UConn in 2014 with a joint appointment in the School of Business and the Human Rights Institute.
While other business schools focus almost exclusively on financial strategy, UConn is a pioneer in the field by integrating corporate social responsibility and human rights education while simultaneously preparing the business leaders of tomorrow, Kaeb said.
Below is a recent interview with Kaeb:
Issues of global human rights seem to be at the forefront of Americans' minds recently. We've seen horrifying images of children exposed to nerve gas in Syria, a customer injured and dragged off a United Airlines flight, a crush of sexual harassment charges against FOX News executives.
In your opinion, are human rights being abused more now than in recent history? Or are we just witnessing more of it through social media?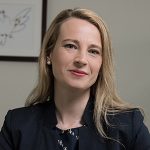 Anyone who claims we live in a modern, progressive, global society is not recognizing the reality of our times. Many people are suffering and dying from gross human rights abuses and atrocity crimes, and it is happening on our watch.
I really doubt that evidence would demonstrate there are more human rights violations today than in the past. Cell phones are bringing it to our attention, often almost instantly, creating real-time accountability, and that is good.
We need to understand that peace and tranquility in one part of the world does not mean the same bliss exists elsewhere. Through social media we see the reality that lives are at stake elsewhere, whether it be massive refugee flows, mass torture and chemical weapons attacks in Syria, or mass rape in Central Africa.
As an expert in this field, how do you define human rights and what is/isn't covered under the definition?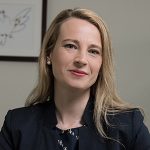 At its core, human rights are the quest for human dignity. They are the inalienable, universal, fundamental rights that are inherent to all human beings, no matter their nationality, ethnicity, gender or religion.
The scope of human rights today is very broad for good reason. A safe, clean environment, good healthcare, employment rights and opportunities—all of these are under the umbrella of fundamental human rights.
Business and human rights is a relatively new area of study and research. Although we traditionally think of it as pertaining to overseas operations of global corporations, the human rights domain prominently also includes supply chain issues deeply embedded in our own economy as well.
So, it is equally important to realize that human rights issues in business operations are as relevant at home as they are elsewhere. The recent allegations of sexual harassment at FOX News, for instance, would be at the core of business and human rights, and clearly a matter of a business' social responsibility. Hobby Lobby's refusal to pay for contraception for employees would also be considered a business and human rights dilemma, as a matter of gender equity and discrimination. The 500 percent cost hike for Mylan's life-saving EpiPen medication, is another example of where business and human rights intersect.

As business students enter the corporate world, what outlook/philosophy should guide them through their corporate decisions?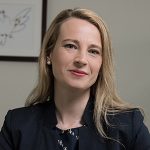 Before accepting a new job, I hope our students will take the opportunity to become informed about their potential employer's impact on society and the company's social responsibility commitment and efforts. Next, I hope they will take with them from UConn an awareness and sensitivity to human rights both globally and domestically.
Applying human rights perspective to contemporary business dilemmas provides a helpful framework to guide corporations in years to come. No company operates in a vacuum. What should be the 'north star' of corporate decision-making is creating value, both for the business as well as for society.
I encourage students to look for engagement opportunities, large and small. Many companies today have a corporate responsibility function that serves as a focal point for employees interested in volunteering their time and skills, raising awareness, or contributing in other ways to the philanthropic efforts of the corporation. A company's sustainability or corporate responsibility report is a good starting point to get a lay of the land of company efforts, and ways to become involved.
Also, most companies have many offerings for their employees—such as informational events, roundtables, stakeholder dialogues—to nurture a culture of integrity. I believe it is important to remember that morality starts in every one of us; this is also—and particularly—true in large corporate organizations. After all, corporations have no conscience or soul per se, but rather they are comprised of people whose values and every day decision-making shape the company's social mindset and culture.

Corporate social responsibility is a much-discussed concept in business today. Do you see an unyielding tie between morality and corporate survival?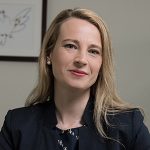 I'm torn about this answer because there isn't always a causality between moral conduct and profitability. There is indeed a growing awareness of and response by corporations to what I call the 'social mandate.' This term encompasses the societal challenges of our times, be they in human rights, environment, health care, adequate housing or other issues.
I believe there is a growing awareness by corporations of a social mandate to address societal challenges and human rights. A strong policy of corporate social responsibility can help companies distinguish themselves in the marketplace and that, ultimately has a financial benefit.
One example is Patagonia, an American clothing company that sells mostly outdoor clothing and which promotes fair labor practices and safe working conditions throughout its supply chain. It's an example of a company 'doing good' and its mission translating into corporate financial success.
But that's not always the case. When Starbucks announced it would hire 10,000 refugees, in response to U.S. policy developments, its stock prices plummeted. There may have been other potential factors that contributed to the decline, but clearly that particular decision didn't directly benefit the company's bottom line.
I think it is fair to say that companies that ignore social responsibility at the very least forgo a tangible opportunity for building a better relationship with customers. Corporate social responsibility is not just a 'nice thing to do' but is an operating responsibility that forges an indispensable bond between the company and its stakeholders—whether they are customers, regulators, communities or society in general—that goes to the core of the business.
A company that turns a blind eye to the changing expectations of business in a socially dynamic world risks tangible financial impact upon its brand for years, or even decades, to come. The verdict is pretty clear by now that corporations will better succeed in a competitive world deeply influenced by social issues if they conduct their business operations with integrity and with respect for human rights and fundamental principles of morality.

As you look to the future, do you have a sense of optimism about this young generation of leaders? How do we continue to make strides in this important area?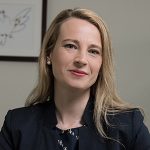 What is striking to me about this generation of students is that they don't have to be convinced of the legitimacy and merit of conducting business responsibly. It is already intrinsic to their thinking and they demonstrate it through their course choices, internships, study projects and volunteering. They are ready to generate business growth while also taking on the social challenges of our times. They recognize that businesses have a responsibility to society. So we go right into, "How do we implement it?"
To continue to make strides, I think is crucial for everyone—particularly our students—to be part of the dialogue about social responsibility. There is ample opportunity to engage in all different walks of life.
In my case, for example, I have had a longtime engagement on human rights issues in information communication technologies (ICT) through a multi-stakeholder initiative, the "Global Network Initiative." The initiative promotes a collaborative approach between ICT companies and other stakeholder groups to protect freedom of expression and privacy in the face of government requests to disclose personal user information or self-censor internet searches in order to comply with domestic laws and policies.
I'm also the co-founder and co-chair of the working group on business and human rights for the United Nations' Global Compact's Principles for Responsible Management Education (PRME), to which the UConn School of Business is a signatory member.
These are important and exciting times. Corporate responsibility practice is a dynamic and quickly-evolving field that is transformative to business as we know it. My recommendation is that everyone be a part of this process, both personally and professionally.